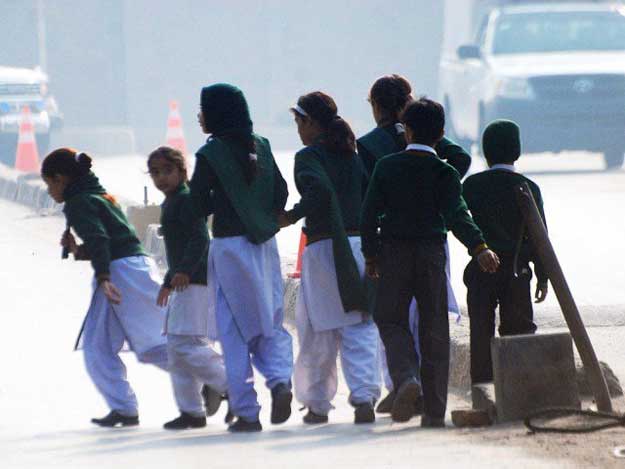 ---
KARACHI: All army-run schools in Karachi will remain closed from January 27 till January 31 owing to security concerns.

Parents and students were informed late Tuesday that the all army educational institutions, including PAF Degree College Faisal Cantt will remain closed starting from Wednesday and will reopen on Monday, a principal told The Express Tribune.

"The educational institutes will remain closed due to security concerns," the principal added.

On Tuesday, the University of Karachi (KU) was forced to postpone its convocation for want of adequate security arrangements for the event. New dates have yet to be announced.

Bacha Khan University demands weapons after deadly attack, closes for indefinite period

KU's registrar Dr Moazzam Ali Khan notified on Tuesday that the Annual Convocation 2015 scheduled to be held on January 30, 2016 has been postponed and new dates will be announced later.

More than 1,500 students who were to be awarded degrees for Bachelor's, Master's, MPhil and PhD will now have to wait till the varsity administration is able to make security arrangements at the Valika Ground.

The decision was taken following a meeting where security conditions at the campus were discussed following the recent attack at Bacha Khan University, Charsadda.

Panic, confusion in twin cities over closure of schools

Four terrorists, armed with sub-machine guns, pistols and hand grenades, launched the attack around 8:45 when the campus was enveloped in thick morning fog.

A splinter group of the outlawed Tehreek-e-Taliban Pakistan (TTP) claimed credit for the sickening violence at the Bacha Khan University in the Palosa area, 15 kilometres southeast of the main Charsadda Bazaar, though the fugitive leadership of the umbrella group denied involvement.
COMMENTS (5)
Comments are moderated and generally will be posted if they are on-topic and not abusive.
For more information, please see our Comments FAQ