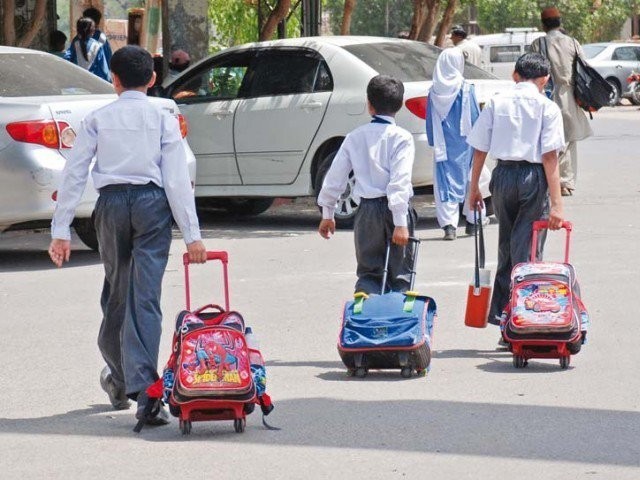 ---
FAISALABAD/ LAHORE: The Punjab government announced on Tuesday that all public and private schools will remain closed from January 26-31 on the pretext of severe cold wave.

Though, most in the provincial capital believe schools were closed following a serious security threat as the announcement came through an official Twitter account of the Punjab government in the early hours of Tuesday.


All the public and private schools across the province will remain closed due to severe cold from 26-31st January. #Punjab

— Punjab 2013-18 (@Punjab13to18) January 25, 2016


The announcement made headlines on electronic media, causing confusion among parents if they should send their children to school or not.

Many schools in capital lack security

Speaking to The Express Tribune, Maria Khan, a mother of two, said: "I am unable understand what the government does during day hours. This is the second time it has happened that the government made such an announcement around midnight when no one is available in school for confirmation. However, thanks to social media and mobile communication my children's school announced holidays on its Facebook page an hour after the announcement by Punjab government."

Mubashir Hayat, a father of a young student, also made similar remarks.

FIRs registered against govt schools, offices for lack of security

"It seems state machinery takes educational sector for granted or perhaps there is some serious security alert, which forced the government to make announcement this late at night," he said. "The government should make such announcements in a timely manner."

However, Punjab Minister for Education Rana Mashood dispelled the impression that schools were closed due to security threats.

Speaking to the media, he said the decision was made after consensus during high-level meeting in view of the extremely cold weather.

Schools in Peshawar closed over threat of possible attack

Lahore District Coordination Officer (DCO) Capt (r) Muhammad Usman had directed all town administrators to ensure complete closure of public and private schools in their jurisdiction during the said dates.

He warned school managements that if any school tried to violate holidays, their registration could be cancelled.

A high level meeting is also scheduled on January 30 with Mashood to review security arrangements of educational institutions and discuss weather conditions.
COMMENTS
Comments are moderated and generally will be posted if they are on-topic and not abusive.
For more information, please see our Comments FAQ