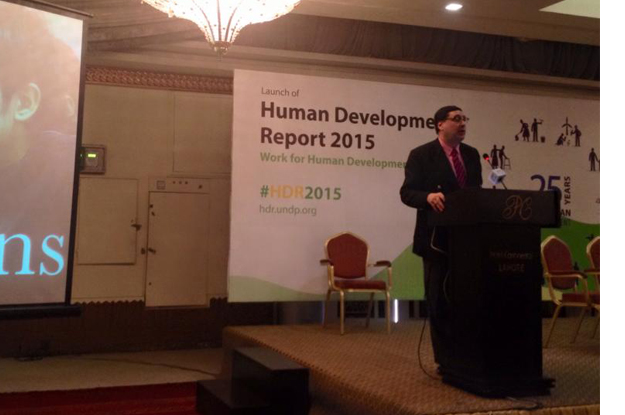 ---
LAHORE:



"Pakistan is faced with the worst crisis in the form of unemployment and lack of education, especially among the youth who account for 64 per cent of the country's population," Adil Najam, the Boston University's Frederick S Pardee School of Global Studies dean, said on Monday.




Najam was speaking at the launch of Pakistan National Human Development Report, 2015, (NHDR). He is the lead author of the report.

He said the lack of education could result in situations like Arab Spring… and agitation at Egypt's Tahrir Square. "The Arab Spring and protests in Egypt were the result of unemployment… the educated youth there were frustrated over not being able to get jobs."

He said there were 3.7 million jobless people in Pakistan and that 1.25 million jobs would have to be created each year just so the figure did not rise.

Najam stressed the need for changing the youth's mindset to steer the country out of crises. "The government and policymakers must work in this direction. They should arrange for quality education as well as employment," the dean said.

Najam also talked about what he called the level of frustration among the youth in Pakistan. "Five days after the December 2014 terrorist attack on Army Public School (APS) in Peshawar, we interviewed a number of young people, particularly those residing in Mardan and Charsadda. What we figured out was horrifying and eye-opening. The youth are now more worried about their security instead of their homework," he said.

"If you have a lot of people who are angry, disconnected from the society and irritated, you must address their problems… to avoid Egypt-like agitation," Najam said.

He said the NHDR viewed the youth as a force critical for shaping human development in the country. He said the report looked at the significant opportunity that Pakistan had for improving human development by investing in quality education and employment for the youth.

He informed the participants of the launch ceremony that the final NHDR would apprise core policy actors of the critical importance of Pakistan's youth in the human development of the country.

United Nations Development Programme Country Director Marc-Andre Franche, Punjab Information Technology Board Chairman Umer Saif and Kashf Foundation Managing Director Roshaneh Zafar also spoke on the occasion.

Published in The Express Tribune, January 26th,  2016.
COMMENTS (1)
Comments are moderated and generally will be posted if they are on-topic and not abusive.
For more information, please see our Comments FAQ