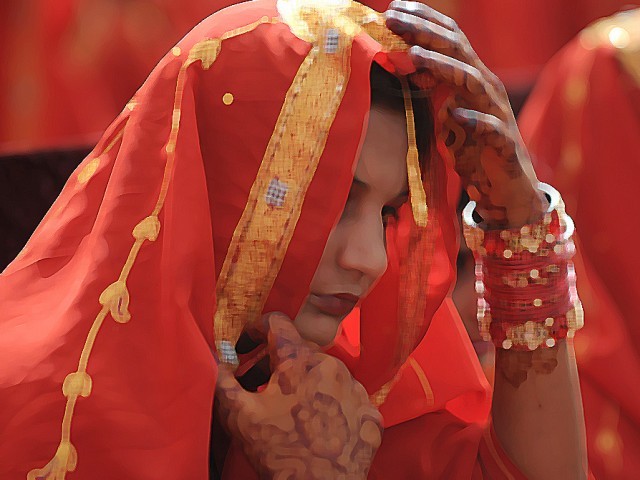 ---
ISLAMABAD:



Another move to ban child marriages in Pakistan has fallen at the first hurdle. The bill to prohibit underage marriages has been withdrawn after the Council of Islamic Ideology (CII) declared it un-Islamic.




The ruling party lawmaker, who moved the bill, withdrew her proposal on Thursday following staunch resistance from the council, which advises the legislature whether or not a certain law is Sharia-compliant.

Child marriage restraint bill : Activists lash out at govt for preparing flawed draft

The National Assembly's Standing Committee on Religious Affairs and Interfaith Harmony rejected the Child Marriage Restraint (Amendment) Bill 2014 after the CII dubbed it 'anti-Islamic' and 'blasphemous'.

The committee meeting, which was presided over by its Chairman Hafiz Abdul Karim, unanimously rejected the bill on 'purely religious grounds'. Afterwards, PML-N's Marvi Memon also withdrew her proposal.

The proposed legislation had recommended harsher punishments for those entering conjugal contracts with minors.

Last week, lawmakers in the Gilgit-Baltistan Assembly had also blocked a bill seeking ban on child marriages over similar concerns.

Of child marriages and medieval mindsets

The CII has already ruled the minimum age stipulated for marriage in the Child Marriages Restriction Act of 1929 does not comply with Islamic laws.

In May 2014, amid severe criticism from various quarters, the council had endorsed its earlier ruling that girls as young as nine years old were eligible to be married "if the signs of puberty are visible".

About two years ago, CII Chairman Mohammad Khan Sheerani told the National Assembly that the council had given its recommendations over the suggested law and this should not have been discussed anymore.

He made these comments after Marvi had introduced the bill seeking amendments in the marriage act. The bill was then backed by MNAs Asiya Naz Tanoli, Muhammad Pervaiz Malik and Shaista Pervaiz.

Sheerani had opposed the proposed amendments, saying they were contrary to Islamic teachings and laws.

Opposition to anti-child marriage bill

"Parliament cannot create legislation that is against the teachings of the Holy Quran or Sunnah," he had said while backing his arguments with relevant laws and a few references from the Holy Quran and Hadith.

According to Islamic laws, marriage can be solemnised when a girl attains puberty, Sheerani claimed. Under the Constitution, the CII chairman is the final authority in the council with the choice to overrule the voice of all members. While the CII's decisions are not binding on parliament, they are treated as the guiding principles to frame laws.


Published in The Express Tribune, January 15th, 2016.
COMMENTS (58)
Comments are moderated and generally will be posted if they are on-topic and not abusive.
For more information, please see our Comments FAQ