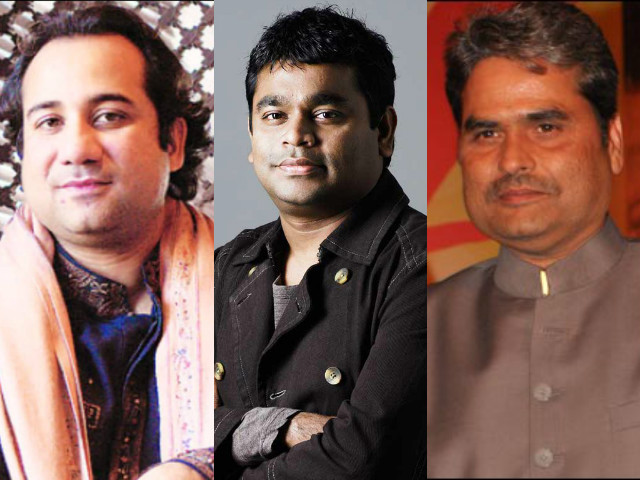 ---
Ace Pakistani singer Rahat Fateh Ali Khan has worked his magic in tinsel town before and by the looks of it, his demand across the border has yet to come to an end as he teamed up with maestros AR Rahman and Vishal Bhardwaj for upcoming Bollywood film Jugni.

In a recent interview with The Statesman, Rahat shared his experience on collaborating with both the award-winning music composers.
"It's an honour for me. I think it's a great step and a wonderful collaboration. When the film's music is launched, the songs will be blockbuster hits. Inshallah!" he said.

I will keep visiting India like before: Rahat Fateh Ali Khan

The film consists of 12 tracks all composed by Indian singer-composer Clinton Cerejo. Sharing details about the tracks, Rahat revealed, "AR Rahman has his own track in the film. Clinton kept another track aside for me, which was a qawwali.

"The composition of the qawwali has been modified using musical instrument Rubab, while keeping the basic harmonies intact along with the lyrics. It's melodious and brings a hint of spirituality, or you can say an element of rohaaniyat, which slowly touches your soul. Ek lagan, ek junoon hai... and that is the attraction of the song," he added.



Rahat Fateh Ali Khan supports Adnan Sami's stay in India

Apart from Rahat, renowned Pakistani playback singer Javed Bashir has also lent vocals for Jugni Unplugged, Dilaan De Saudey‬ and Jagmag Jugni.







Rahman changed Indian music: Vishal Bhardwaj

AR Rahman has lent vocals for Lakhon Salaam, penned and composed by Kashif -- who also wrote the lyrics for hit song Khwaja Mere Khwaja of Jodhaa Akbar.


And while Rahman's number is a prayer song, Vishal's track Duggu Duggu Dug, is a travel song with a lilting tune.



Jugni will mark the directorial debut of Shefali Bhushan. The film revolves around the journey of a music director who travels to a village in Punjab and meets a folk singer who winds his way into her heart.




The film is slated to release next year on January 22.
COMMENTS
Comments are moderated and generally will be posted if they are on-topic and not abusive.
For more information, please see our Comments FAQ