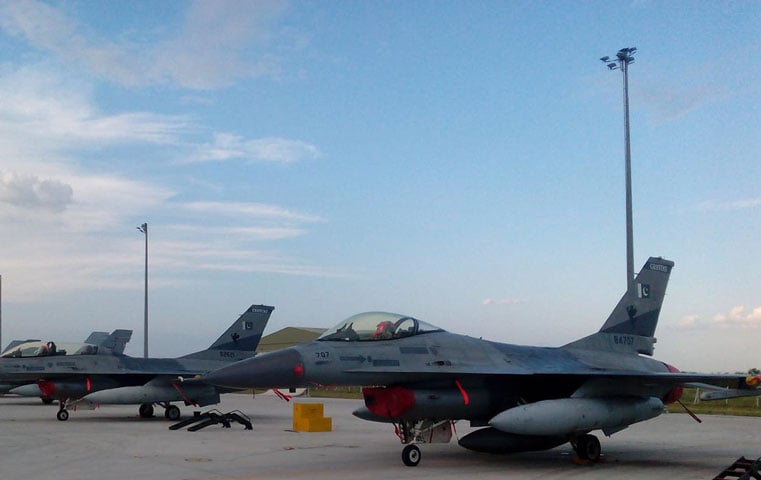 ---
The Pakistan Aeronautical Complex (PAC) on Monday rolled out the 16th Block 2 JF-17 aircraft and formally handed it over to the Pakistan Air force (PAF).

Paris Air Show: Pakistan's first JF-17 export order irks India

A target of producing sixteen JF-17 Thunder jets was given to the complex, said the spokesperson, adding it has now been decided to expand the production capacity of the PAC Kamra.

Meanwhile, Chief of Air Staff Air Chief Marshal Sohail Aman said Pakistan is in negotiations with the United States to procure the latest F-16 fighter jets, but did not specify an exact number, Express News reported.

"We are in talks with US defence officials to get some latest F-16s but the deal may take some time," the Air chief said while talking to reporters after the rolling out ceremony of the 16th JF-17 Thunder aircraft at the PAC Kamra.

Further, the Air chief said by the year 2020, PAF will say "goodbye to some of its old fighter jets, including the Mirage." While expressing his satisfaction over the production and quality level of the JF-17 Thunder he said it is at par with the F-16 in terms of performance and operations.

'JF-17 thunder fighter has capability to compete with any modern fighter jet'

The latest models of the jets, which are locally produced in cooperation with China, are lightweight multi-role aircraft capable of Mach 2.0 (twice the speed of sound) with an operational ceiling of 55,000 feet.

The decision of expansion into the aircraft's production has reportedly been made in view of interest shown by various countries in purchasing these warplanes from Pakistan.

In July this year, Pakistan was successful in securing its first ever export order for its JF-17 Thunder fighter at the first day of the International Paris Air Show where a contract was confirmed to have been signed with an Asian country, Indian media had reported.

China to deliver 50 more JF-17 Thunder jets to Pakistan

Eighty people were promoting the JF-17 in Paris this year, reflecting a significant marketing push. In comparison Indian Air Force (IAF) is struggling with its light combat aircraft 'Tejas', which will take another year to become ready for combat. The IAF is greatly concerned as it is down to just 35 fighter squadrons while at least 44 are needed to tackle a threat from Pakistan or China.

In October, Minister for Defence Production Rana Tanveer had said the country is producing state of the art competitive defence products. "The indigenously built JF-17 thunder fighter has the capability to compete with any modern fighter jet, including the F-16," the minister said, while addressing the media after inaugurating the modern display center of Defense Export Promotion Organisation.