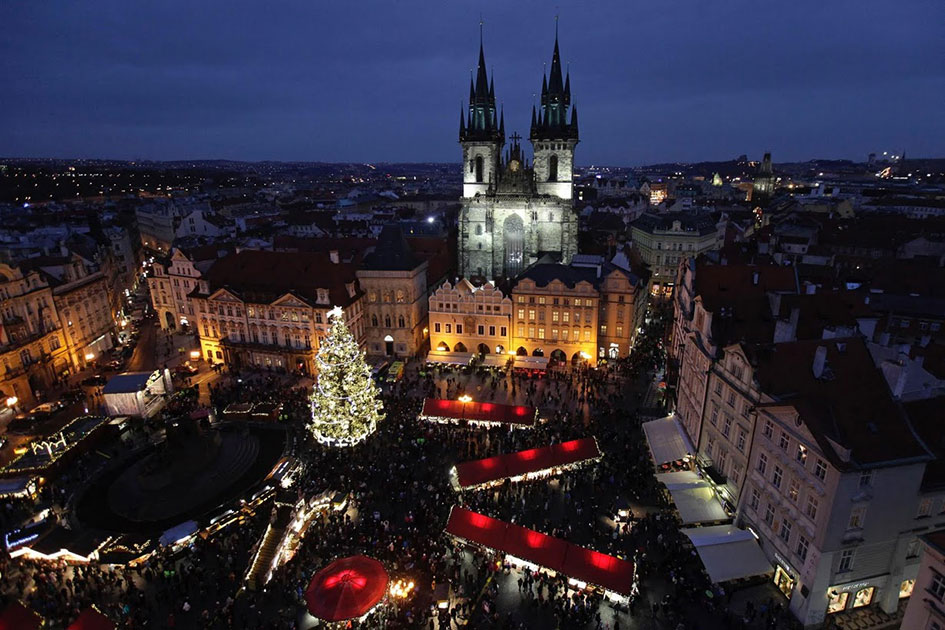 ---
As Christmas is celebrated across the globe today, Christmas trees have been adorned with decorations from garlands, ornaments, tree toppers, tinsel and ribbon among an assortment of embellishments.

The Christmas tree has a rich history, from evergreen trees to symbolise eternal life in Ancient Egypt to tree worship by pagan Europeans.

Traditional trees with a modern and alternative decorations are a prominent feature in every major cities from London, to New York, to Moscow and Paris.

We look at some of the most remarkable Christmas trees around the world.

1. Paris, France

In the French capital, the Galeries Lafayette department store always has a sumptuous tree. This year's tree is inspired by outer space and hung with gold and silver meteors.




2. Monte Carlo, Monaco

Christmas trees frame the Monte Carlo Casino as part of seasonal decorations in Monaco.




3. London, England

People are seen skating past a Christmas tree on an ice rink at Somerset House in London.




4. Vienna, Austria

Vienna paid tribute to the victims of the recent terror attacks in Paris. The Christmas tree outside of the city hall in Austria's capital was lit in the blue, white and red colours of France's national flag.




5. Tokyo, Japan

A Christmas tree stands in front of the Tokyo Metropolitan Government Building in Tokyo's Shinjuku business district.




6. Budapest, Hungary

A Christmas tree is lit in front of the St. Stephan Basilica in the Hungarian capital.




7. Bogota, Columbia

A Christmas tree stands in Simon Bolivar Park in Bogota, Colombia. Colombians lit candles on December 7 to mark the start of Christmas festivities.




8. New York, USA

This spruce stands outside the New York Stock Exchange in Manhattan. Sting performed in the turning on ceremony of the city's other popular seasonal tree, at the Rockefeller Centre. Giant angels lit up the streets around it




9. Turin, Italy

A Christmas tree made from a light installation is displayed in Turin's Piazza Castello.




10. Rakvere, Estonia

A Christmas tree made of 121 old wooden-framed, coloured windows, built by local carpentry students, is seen in Rakvere, Estonia.




11. Bethlehem, Jerusalem

The main tree in the West Bank town is decorated with the traditional colours of the festive season. Bethlehem is known to be an atmospheric place for Christmas. 




 12. Rio de Janeiro, Brazil

Fireworks explode over the floating Christmas tree at the Rodrigo de Freitas Lagoon in Rio de Janeiro.




13. Tbilisi, Georgia

Cars drive on a street illuminated with Christmas lights in Tbilisi, Georgia.




14. Vatican, Italy 

The Vatican Christmas Tree, also called the Saint Peter's Christmas Tree, is the decorated traditionally and stands in the main square.




15. London, United Kingdom 

The renowned tree in London's St Pancras station stands tall at 35 feet high. The tree is adorned with 2,000 mini presents provided by Fortnum & Mason.




16. Monterrey, Mexico

A couple hugs while standing near a Christmas tree made from plastic bins and hampers outside the Museum of History in Monterrey, Mexico.




17. San Francisco, US

An illuminated Christmas tree is displayed in front of San Francisco church in La Paz.




18. Edmonton, Canada

The tree stands tall in Sir Winston Churchill Square in Winston Churchill Square, Edmonton, Alta.




19. Gardens by the Bay, Singapore 

Supertree structures stand in Singapore's Gardens by the Bay.


COMMENTS (1)
Comments are moderated and generally will be posted if they are on-topic and not abusive.
For more information, please see our Comments FAQ