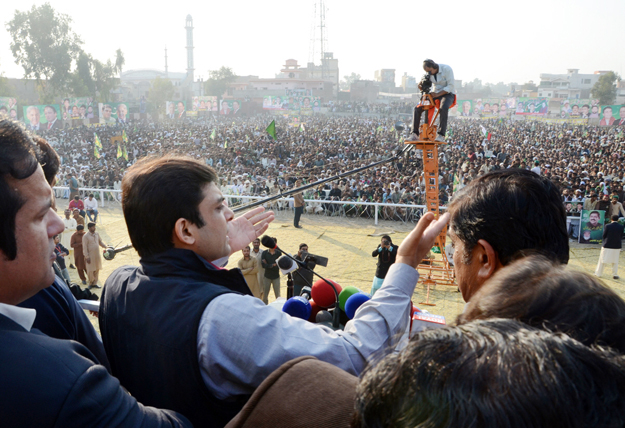 ---
BAHAWALPUR:



"When I first came to Lodhran, I had intended only to campaign for Siddique Khan Baloch. But now I realise that it is not only important to win the election but also the hearts of the people," Pakistan Muslim League-Nawaz (PML-N) leader Hamza Shahbaz said on Monday.




"Political alliances can be fickle. Alignments sometimes change overnight. But I am not here today looking for political relations. I am here seeking to build a relationship on love."

"I am aware that residents of Lodhran have been complaining of a poor sewerage system and have demanded safe drinking water," he said.

"I am here to tell Sidique Khan Baloch to get ready for the challenge. He must not rest until people of Lodhran are satisfied with his performance," he said.

He said the Pakistan Tehreek-i-Insaf chairman had insulted the parliament and Election Commission of Pakistan from atop a container. "He disrespected senior people. One should not be so arrogant," he said.

"After the conclusion of all three phases of the local government elections and the voters of NA-122 have once again chosen the PML-N candidate, our stance on rigging has been vindicated," he said.

"I am now waiting for December 23. The tiger (PML-N's electoral symbol) will roar once again," he said.

"Imran Khan went knocking at the court's door to stop Nawaz Sharif from distributing financial assistance among farmers. This reveals the priorities of the two leaders," he said.

"Khan went to the Supreme Court for a stay order against Kissan Package," he said. "Such selfish politicians are no friends of the people."

"By 2017, the load shedding genie will be bottled by Nawaz Sharif forever," he said.

Published in The Express Tribune, December 22nd, 2015.