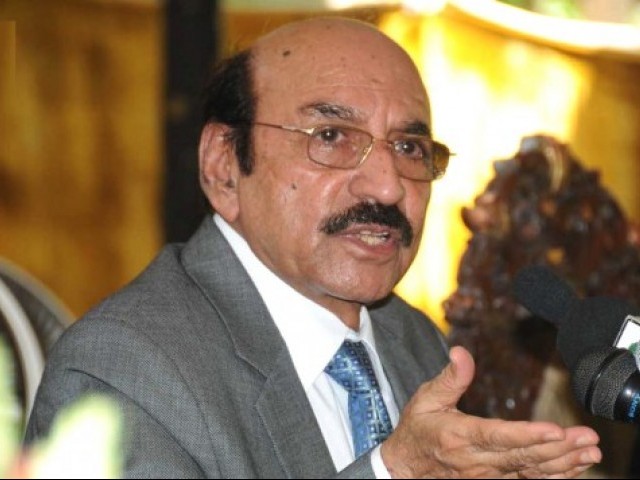 ---
HYDERABAD:



Sindh Chief Minister Qaim Ali Shah has ruled out imposition of governor's rule in the province amid speculation that the federal government could react to the Sindh Assembly's move to clip the Rangers' powers.




"The federation does not have the authority to impose governor's rule in Sindh or for that matter in any other province," Shah said on Saturday while talking to reporters after attending Sindh University's convocation in Jamshoro.

"There is no reason for the imposition of governor's rule in the presence of the Constitution in the country," he said. "There will be long-term implications if it [governor's rule] is imposed," he added and blamed the media for rumour mongering.

Karachi operation: Rangers stand as an anti-terror bulwark

The chief minister claimed that the Rangers have been given the same powers by the Sindh Assembly through its resolution that they had been enjoying earlier.




Shah said he had not observed any adverse reactions to the alleged trimming of the Rangers powers, giving a reference to his recent meeting with the Rangers Sindh director-general. "He [Maj Gen Bilal Akbar] only said we should forward the matter [to the federal government] that we have already done," he said.

Defending the resolution to delegate policing powers to the Rangers, Qaim said it was meant to 'discipline' the paramilitary force.

"Their four main powers are still the same," he said. "I have always reiterated they [Rangers] have the authority to take action against targeted killings, terrorism, kidnapping for ransom and extortion."

But he obliquely criticised the federal government and the army for stepping on his toes. "When it [Karachi operation] began, I was made the captain," he said. "Now, I don't know where that captain has gone."

Qaim also played down any threat to his government from a recently announced alliance of opposition parties led by Pakistan Muslim League-Functional's Pir Pagaro.

In discussion: Sindh govt yet to issue notification for Rangers' powers

Opposition's conspiracy

In Nawabshah, the chief minister's adviser on information said the whole episode had been blown out of proportion by the 'conspiring' opposition parties.

"The opposition parties have made the issue [of Rangers' powers] controversial under a conspiracy," said Maula Bux Chandio while talking to reporters. He also questioned why only Sindh was being asked to empower the Rangers to raid government offices.

He stressed that other provinces should also authorise the paramilitary forces to search government offices and arrest officials if Sindh was forced to do so.

Chandio, however, credited the Rangers for improving the law and order in Karachi and also appreciated the efforts of the National Accountability Bureau and Sindh Anti-Corruption Establishment for initiating accountability process against corrupt public servants and politicians.



Published in The Express Tribune, December 20th, 2015.
COMMENTS (3)
Comments are moderated and generally will be posted if they are on-topic and not abusive.
For more information, please see our Comments FAQ