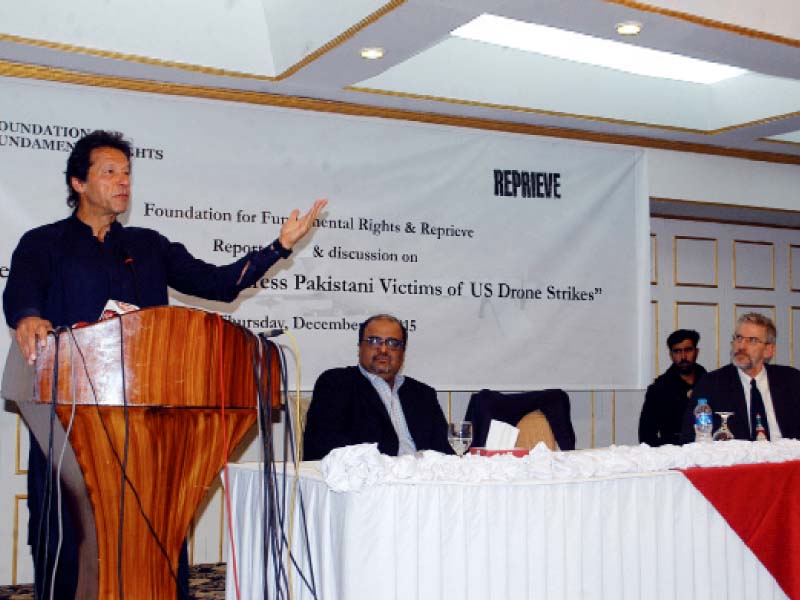 ---
ISLAMABAD:



Lawyers and human rights activists have demanded financial compensation as well as an official apology from the US government for the drone strikes carried out in Pakistan that has resulted in loss of hundreds of civilian lives.




A report titled "Do we not bleed? International failure to redress Pakistani victims of US drone strikes" jointly prepared by the Foundation for Fundamental Rights (FFR) and Reprieve a UK-based rights organisation was launched here on Thursday, seeking justice and compensation for victims of drone strikes, from the US government.

Rafiqur Rehman from North Waziristan who lost her mother Momina Bibi to a drone strike in 2012, while talking to The Express Tribune said that peace was not achieved through war but through dialogue, mass education and creating employment opportunities for the people.

He said that war against terrorism could not be won through bloodshed and secret agreements with the US. Rehman said that the US should fund education and employment in Pakistan and not war.

FFR Director Shahzad Akbar criticised the silence of successive Pakistani and US governments on the issue.

He said that the US government did not even recognise the victims of the drone strikes until 2015 and that too only when Warren Weinstein, an American, and Giovanni Lo Porto, an Italian, got hit.

Akbar said that compensation was just a small effort in terms of seeking justice for the drone victims, who continue to live, displaced from their homes.

He claimed that not a penny of the US government's Pakistani Civilian Assistance Fund that totalled around $40 million had reached any of the drone strikes victims.

Reprieve Director Clive Smith said that as a US citizen he would like to apologise for the strikes that had claimed civilian lives, to applause from the audience that included drone victims.

Smith said that for every single terrorist killed in the strikes, nine children lost their lives in Pakistan.

He, while citing compensatory payments made by the US government to innocent victims of its strikes said that a European or American life was worth a million dollars, a Yemeni life $0.1 million, an Iraqi and Afghan life $50,000, but a Pakistani life worth nothing.

"Compensatory payment made for a cow mistakenly killed in a US strike in Afghanistan is $320," Smith added.

He demanded compensation for the drone strikes victims in Pakistan.

Pakistan Tehreek-e-Insaf (PTI) Chairperson Imran Khan said that he hoped more Pakistani rights organisations, and not just a British rights group, would take up the cause of the victims.

He said, "we have to respect ourselves, if we want others to respect us".

Khan, while quoting Ibn Khaldun said that the whole purpose of human existence was to strive for a just society.

He said that the sociologist had a low opinion of those who silently watched injustice happen, and that the essence of Islam was in justice. Khan, while urging everyone to speak against the strikes quoted Aristotle as saying that in times of injustice only those who were cowardly or opportunists would stay silent.

Khan, while recalling his meeting with Rahul Gandhi few years ago, quoted the Indian politician as saying that they could not imagine Indian military carrying out such strikes inside their own territory, let alone allowing a foreign country to do so. "Mind you there are a number of insurgencies taking place inside India," the PTI leader added.

He praised the Afghan government for securing compensations for the victims of the war from the US.

PTI leader from North Waziristan Malik Riaz, while stressing rehabilitation of the IDPs said that had the army operation launched in the area after discussion with the tribal leaders it would have been of help to both the cause of the military as well as the locals.

Activist Tahira Abdullah said that the drone strikes must end.

Dr Mavara Inayat, professor at Quaid-i-Azam University said that the drone strikes were a violation of human rights by a country that claims to champion them.

Published in The Express Tribune, December 11th, 2015.