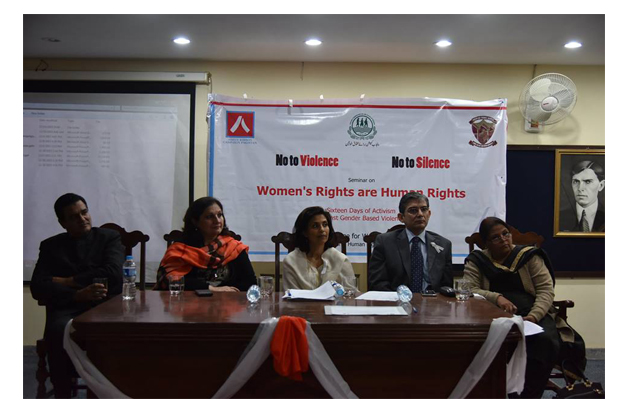 ---
LAHORE:



Speakers at a seminar on women's rights said on Thursday despite a number of laws in place to protect them from harassment and abuse, lack of awareness continued to alienate victims and their families. They said cases of harassment and abuse were rarely pursued because victims feared social stigmatisation.




They were addressing students of Lahore College for Women University (LCWU) at a seminar organised by Punjab Commission on Status of Women (PCSW) and the White Ribbon Campaign.

The seminar was organised to mark the International Human Rights Day. A large focus of the seminar was on the recently promulgated laws in the Punjab and the status of their implementation.

Scores of students and faculty members participated in the seminar.

Punjab Commission on the Status of Women (PCSW) Chairperson Fauzia Viqar, Women Police Station SHO Bushra Aziz, White Ribbon Chief Executive Omer Aftab, Additional Advocate General Asma Hamid, Medico-Legal Head Surgeon Waseem Haider, MPA Shunila Ruth and LCWU Women Institute of Learning and Leadership Director Sarah Shahid spoke on the occasion.

Viqar said women were beginning to identify various types of abuse they were subjected to.  "This is happening because the Punjab government took steps to promote women's economic, social and legal empowerment," she said.  She spoke on the commission's plans to monitor implementation of laws and raising awareness on women's rights under the 2030 Development Agenda for Sustainable Development in the Punjab.  She told students about various laws for protection of women and asked them questions about their rights.  "It is evident that although we have laws to protect women, even educated women do not know enough about them," she said.  "These laws will remain ineffective unless there is a change in social attitudes and there is greater awareness on this issue," she said. Omer Aftab referred to legal literacy campaign by the White Ribbon and the PCSW for raising awareness among women about their legal rights and remedies available for victims of violence. He also urged legislators to push for stronger pro-women legislation and its implementation. Bushra Aziz talked on the role of police in ending violence against women. "Police is the main institution for prevention of violence and upholding law," she said. She said the perception that police were complicit in violation of women's rights.

Waseem Haider highlighted the importance of forensics in abuse cases. He pointed out that there were only a handful of female medico-legal officers in the province. He urged young girls to join the Police Department, become doctors and serve as women medico-legal officers. Sarah Shahid said that awareness on women's rights and gender-based violence should be raised among young girls. "Until our society accepts women's rights issues as human rights problems, it is impossible to improve the situation of women of Pakistan."

Published in The Express Tribune, December 11th, 2015.
COMMENTS
Comments are moderated and generally will be posted if they are on-topic and not abusive.
For more information, please see our Comments FAQ