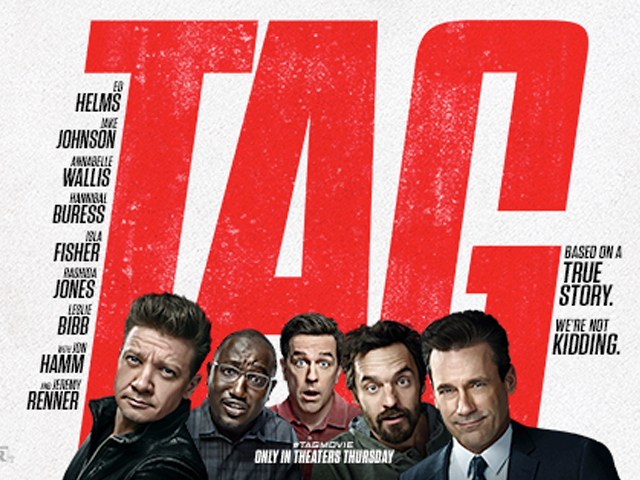 ---
Tag: How far are you willing to go for friendship?
There is so much comedic talent here that the movie should be a riot; it's a shame that the material isn't stronger.
---
For almost two and a half decades, a group of childhood friends have been playing an amusingly absurd game of 'tag', an activity that started in school and has been carried over into adulthood as an offbeat way for the cohorts to stay in touch. For one month every year, the players go through ridiculous lengths to tag each other; the last person tagged is "it" till the next year. Their story came to light through a 2013 piece in Wall Street Journal.

Inspired by the real-life shenanigans of the aforementioned group, Tag tells the tale of six grown-ups who have turned a children's game into a reason to stay connected.


For the entire month of May every year, Hoagie (Ed Helms), Bob (Jon Hamm), Chilli (Jake Johnson), Sable (Hannibal Buress) and Jerry (Jeremy Renner) play tag just like they did when they were children, except they are no longer kids and no longer in a playground. Despite living in different cities, and having jobs, families and commitments, the friends still find ways to tag each other, coming together in the process.




But Jerry, who is getting married, has never been tagged, much to the others' collective chagrin. Try as they might, they always fail to catch him, and now they have made it their mission to end his nearly 30-year winning streak.




The movie has a promising start and a real-life inspiration that proves reality sure can be zanier than fiction. But an interesting story alone isn't enough, and Tag struggles to turn its unique premise into an impressive full length feature. Things get too ridiculous as the film goes on, and some of its subplots – a forced romantic triangle and an attempt for some emotional schmaltz at the end – don't work as well as they should have.




It's an intriguing setup that doesn't really dig deeper or delve into the ramifications and impact the game has really had on the lives of the characters. After all, when someone chooses not to invite some of his supposedly closest friends to his wedding, then there are fractures in their relationships that are worth exploring.




Tag marks Jeff Tomsic's directorial debut, and shows him to be competent but unexciting at the helm.

The cast that the filmmakers have assembled for this project is absolutely terrific, so it's a shame that the material isn't stronger. The actors have chemistry and play well off each other. From the principal male leads to the supporting female cast – the lovely, effervescent Isla Fisher plays Hoagie's wife; Rashida Jones is cast as Bob and Chilli's love interest; and Annabelle Wallis portrays a Wall Street Journal journalist who stumbles across the story while she's interviewing Bob and decides to tag along – there is so much comedic talent here that the movie should be a riot. However, while some of its humour does work, the film overall isn't nearly as funny as you'd hope.




That's not to say the project is a complete mess. There is much sweetness embedded into the proceedings and there are certainly parts that are quite fun. It's just that given its unique story and a surfeit of acting talent, you'd wish for a more interesting, exciting, amusing final product.




Overall, Tag isn't the funniest film you'll watch this year, and if you choose to skip it, then you aren't missing much. But if you decide to give it a chance, the movie is likely to charm you and keep you at least mildly entertained with its hijinks, even if you're never fully invested in the lives of its characters.



Facebook Conversations
COMMENTS
Comments are moderated and generally will be posted if they are on-topic and not abusive.
For more information, please see our Comments FAQ