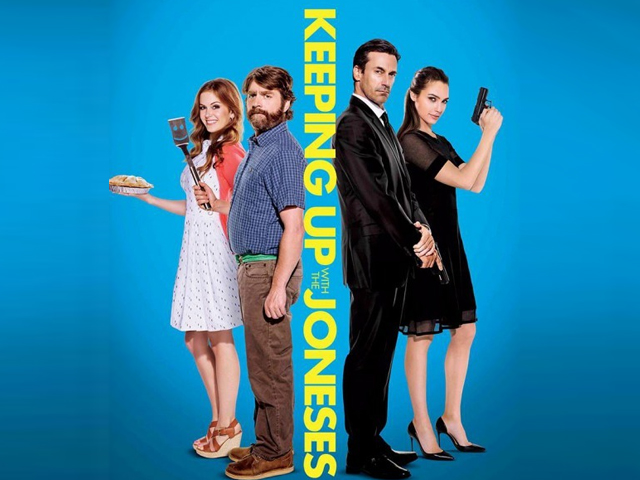 ---
Keeping Up with the Joneses is dull and devoid of any significant laughs
Gadot continues to be gorgeous but her stunning looks cannot hide the fact that she still cannot act.
---
There are two basic things that you can logically expect from a film that is marketed as an action comedy: action and comedy. That detail might seem pretty obvious to you, but somehow Hollywood still hasn't quite managed to grasp this fairly straightforward concept.

The least an action comedy can do is entertain you with its excitement and wit, but ever so often, the movies that supposedly fall in this genre fail on both counts. The latest project is Keeping Up with the Joneses, a spy adventure that despite being powered by an impressive, talented cast (and Gal Gadot) is disappointingly dull and devoid of any significant laughs.


The film takes us to a suburban neighbourhood that is home to HR executive Jeff (Zach Galifianakis) and his wife Karen Gaffney (Isla Fisher). But their peaceful lives are interrupted when new neighbours – travel writer Tim (Jon Hamm) and his cooking blogger wife Natalie Jones (Gadot) – move into the cul-de-sac.




Karen is immediately suspicious of the newcomers who seem a little too perfect. She soon realises that the Joneses are actually spies, blowing their cover in the process. The Gaffneys then find themselves in the middle of an espionage plot.




Improbable, predictable, and largely unfunny high jinks ensue. To be fair, the film doesn't come off as an unmitigated disaster. But everything about it only manages to generate an indifferent 'meh' from viewers. The action is bland. The comedy never surpasses the mildly amusing mark. The storyline just feels generic, as does the movie itself. Director Greg Mottola and writer Michael LeSieur simply do not seem interested in rising above the spy comedy clichés or even using those tropes to create an entertaining satire.




As for the cast, Fisher is the only one who seems to be really trying to make something out of her part; her presence exudes the verve that most of the others lack. Galifianakis and Hamm are amicable but their performances are basically unremarkable. Gadot continues to be gorgeous but her stunning looks cannot hide the fact that she still cannot act; a cardboard cut-out would have been just as effective in the role.




Keeping Up with the Joneses is unsurprising and uninspired, and it feels even more disappointing when you realise that (almost) everyone involved in this film has helped create significantly better projects in the past. This movie, too, could have been more entertaining had the writer and director used their imagination and put in a little more effort.