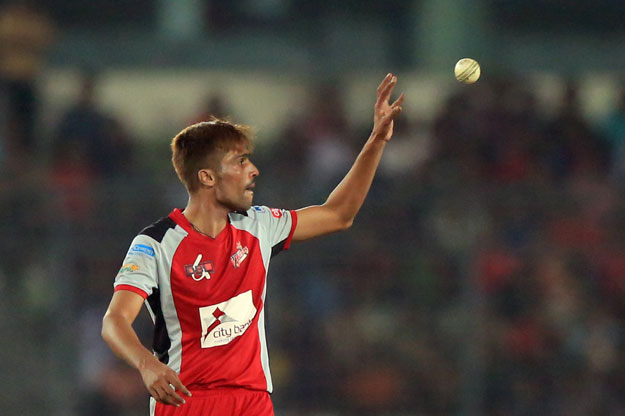 ---
Former Pakistan captain Inzamaul Haq advised Pakistan Cricket Board against including left-arm pacer Muhammad Amir in the national team saying that the dressing room environment will be disturbed.

Following Amir's exceptional performance in the ongoing Bangladesh Premier League for Chittagong Vikings, a debate has been sparked on whether the pacer will be brought back for national duty or not.

Amir in Bangladesh on redemption road

"I don't think it would be a good idea to allow either Aamir or the two other players involved in the spot-fixing scandal back into the Pakistan team," said Inzamam.

"I just feel that if Aamir is selected again for the national team it will divert the focus of the other players away from cricket and there will be added pressure on them and Aamir," he added.

Former Pakistan captain went on to say, "I know from experience that if Aamir is selected in the Pakistan team and when it goes to England, Australia or even India the media will just focus on him and it will mean problems in the dressing room."

Vikings vs Superstars: Amir, Ajmal bowl Chittagong to victory

Inzamam, who has played 120 tests and 398 one-day internationals for Pakistan, claimed that there was nothing personal in his demand but the PCB should have an independent policy on tainted players different from the International Cricket Council (ICC).

"The PCB needs to be clear in its stance on players who have been involved in corruption and tarnishing the image of the country. Because playing for the national team is the highest honour for any athlete," said Inzamam.

Inzamam further said that it will not be easy for Amir also to make a return and not face pressure and problems.

"I can imagine the questions that would be asked if Pakistan lost a close match or if he couldn't perform at the right time. I can imagine the taunts from the crowd and all these things will only divert the attention of the team away from cricket," Inzamam added.

Riders vs Vikings: Misbah, Amir heroics steal the show

Amir's BPL duty is the first time after the five-year ban that he has played outside Pakistan's domestic structure. His domestic heroics were the reason that he was brought in to bowl outside the usual draft of players.

Pakistani veterans and stalwarts are divided on allowing Amir back into the national team but the left-armer has been making a strong case for himself with the ball lately.

The article originally appeared on One India.