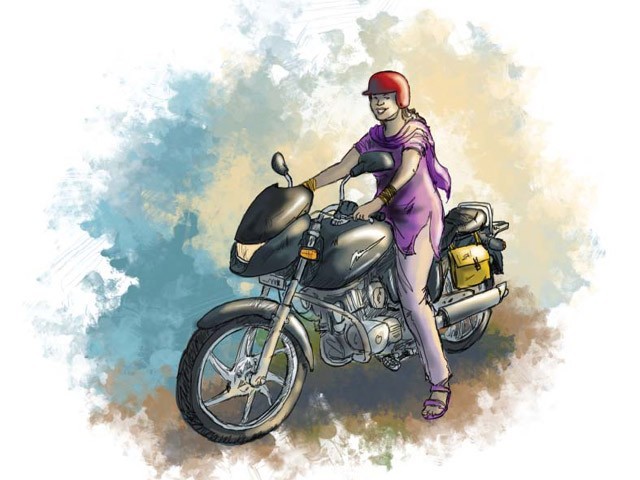 ---
LAHORE: The Special Monitoring Unit's Law and Order Wing on Thursday launched a campaign for raising awareness on gender-based violence and harassment on streets through a campaign named Women on Wheels (WoW). The campaign is aimed at increasing women's mobility and presence in public spaces by providing them free lessons in motorbike driving.

An information session was held at the Traffic Police Driving School. As many as 70 women from lawmakers to domestic workers, attended the event. SMU's Salman Sufi, Chief Traffic Officer Tayyab Hafeez Cheema and MPAs Farhana Afzal and Marie Gill addressed the participants of the training. The speakers encouraged the participants and highlighted the advantages of learning to ride motorbikes.

Against all odds: On her motorcycle, 26-year-old girl glides through Karachi

Sufi said the SMU initiative aimed to empower women and make public space more accessible. This campaign is part of the United Nation's 16 Days of Activism Against Gender-Based Violence from November 26 to December 10.

Under the programme, female traffic wardens will conduct training sessions with flexible timings. In December, a WoW motorcycle rally would be organised on Shaukat Khanum Road.  Registration for training for the motorbike rally has begun. Women wishing to join the rally were directed to send an email with their name, their CNICs and phone numbers to [email protected] after which short-listed candidates would be contacted and provided with free training lessons.He said the traffic police had extended support for the exercise. A public announcement for the rally will be held on December 20 at Traffic Police Driving School, Thokar Niaz Baig. He said Honda had rented out 11 motorbikes for the training at reduced rates.

Sufi said the Department for Women Development has also been taken on board. He said the department would give preference to women participating in the rally in December for provision of scooters as part of their Women Empowerment Initiatives.

Women on the roads of Pakistan

The lawmakers said that for far too long, Pakistani women had been embarrassed, assaulted and harassed in public.

They said it was time for women to reclaim public spaces. "Their mobility should not be hindered. They should feel independent," lawmakers said.

Salman Sufi said women could also contact them through the Women on Wheels Facebook page.

He said the WoW aimed to increase women's mobility by challenging the social perceptions that women cannot or should not travel alone.

Published in The Express Tribune, November 20th, 2015.