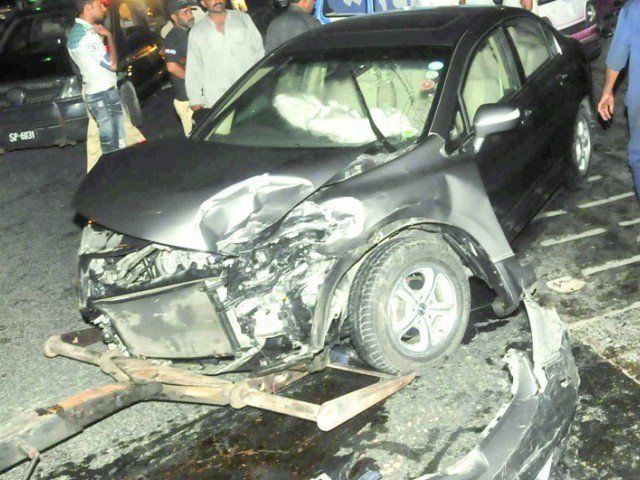 ---
ISLAMABAD: Every day in Punjab alone, 700 families go through either the trauma of losing a loved one or see them injured after a road accident.

As countries across the globe mark the World Day of Remembrance for Road Traffic Victims today, Punjab will see another 700 road crash victims, some with lifelong disabilities. The day is observed on November 15 every year.

Around 1.179 million road accidents in Punjab have been recorded over the past 11 years in Punjab with the highest in Lahore, where the count has reached to 317,748.

Road crashes have been recorded as one of the leading causes of injuries or deaths among youngsters in low-income countries like Pakistan, mostly believed to be caused by irresponsible behaviour of road users.

On an average emergency service Rescue 1122 of Punjab responds to 700 accidents per day, says Emergency Officer Deeba Shahnaz Akhter.

According to Rescue 1122 figures reported between October 2004 and October 31, 2015, the majority of road accidents are recorded in larger cities such as Lahore, Faisalabad (128,829), Gujranwala (82,870), Multan (74,625) and Rawalpindi (48,688).

And despite continuous efforts to educate communities on road safety, there has been no notable drop in the number of accidents, which reflects only education or awareness is not enough.

"Road accidents leave a long-lasting impact on the minds of their victims and their families, affecting their lives directly or indirectly," Deeba says. She also believes the major reason behind road crashes in Pakistan is the irresponsible behaviour of motorists.

"Overspeeding, poor maintenance of vehicles, feeling pride in violating traffic rules and underage driving among others are major causes of road accidents," she says.

Most Pakistanis get driving licences through references without going through the professional procedures. Only the Islamabad traffic police (ITP) have somewhat effectively implemented traffic rules.

ITP SSP Malik Matloob said most people put on the seat belt and started following rules when they entered the capital territory. This has helped bring down the number of road accidents from 122 in 2013 to 70 in 2014.

"But unfortunately as soon as they leave the city they start disobeying traffic rules," the SSP said.

According to the World Health Organisation, low- and middle-income countries have much higher road traffic fatality rates. Over 90 per cent of the world's road fatalities occur in these countries, which only have about 48 per cent of the globe's registered vehicles.

Published in The Express Tribune, November 15th, 2015.
COMMENTS
Comments are moderated and generally will be posted if they are on-topic and not abusive.
For more information, please see our Comments FAQ