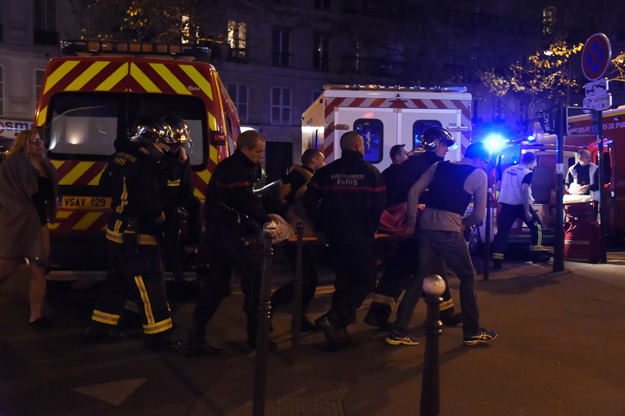 ---
PARIS: At least 128 people were killed in a series of simultaneous gun attacks across Paris on Saturday, as well as explosions outside the national stadium where France was playing Germany in a football match.

Police have said that at least 120 people were killed at the Bataclan concert hall in central Paris, only some 200 metres (yards) from the former offices of Charlie Hebdo which were attacked by extremists in January.

Police said a hostage scenario was under way at the venue, which is in an area known for its busy nightlife.


VIDEO: 100s of people have run onto the pitch at the Stade de France, frightened to leave - @v_menichini pic.twitter.com/EG8TRFaM8r

— Conflict News (@Conflicts) November 13, 2015


Three people were killed near the Stade de France stadium in the north of the capital, police said, where the international football match was taking place.

An AFP journalist at the scene said two explosions were heard.

President Francois Hollande was evacuated from the stadium before the end of the match.

Spectators flooded the pitch as news of the attacks spread. Organisers started evacuating the stadium by three doors.

Another attack was reported at a Cambodian restaurant called Petit Cambodge, not far from the Bataclan venue in northeast Paris.

Counter-terrorism prosecutors said they had opened a preliminary investigation.

The mayor of Paris, Anne Hidalgo, called for residents to stay at home.

"We heard gunfire, 30 seconds of fire, it was interminable, we thought it was fireworks," said Pierre Montfort, who lives near rue Bichat, where one of the attacks took place.

The toll "will be much heavier" than the initial confirmed deaths, a security source said.

"My sister is in the Bataclan," said Camille, 25. "I phoned her. She said they opened fire. And then she hung up."

"Everyone was on the floor, no one moved," said one witness from the Petit Cambodge restaurant.

"A girl was carried by a young man in his arms. She appeared to be dead."

An AFP reporter outside the Bataclan said there were armed police and some 20 police wagons with their lights flashing around the scene.

A council of defence has been convened for Saturday at 9:00 am (0800 GMT). Already, 1,500 additional soldiers have been mobilised," said the Elysee Palace in a statement

Obama says Paris attacks on 'all of humanity'

US President Barack Obama condemned the series of deadly attacks across Paris Friday as an "attack on all of humanity" and pledged to work with France to bring those responsible to justice.

"Whenever these kinds of attacks happen, we've always been able to count on the French people to stand with us. They have been an extraordinary counterterrorism partner. And we intend to be there with them in that same fashion," Obama said in a brief speech from the White House.


Watch the full statement from @POTUS on the attacks in Paris. https://t.co/yQThOvrdxZ

— White House Archived (@ObamaWhiteHouse) November 13, 2015


Facebook activates safety check feature for "Paris terror attacks"

Facebook launched a safety check tool Friday night amid an ongoing terrorist attack in Paris that have reportedly claimed the lives of as many as 120 people. The tool lets users in the area notify their friends of their safety.

Eiffel Tower closed indefinitely


The Eiffel Tower will be closed indefinitely following the wave of deadly attacks in Paris, the iconic landmark's operator said on Saturday.




The company decided to close the monument -- normally visited by up to 20,000 people a day -- after Friday's attacks which claimed at least 128 lives, a spokesperson told AFP. It will remain closed "until further notice," she added.
COMMENTS (32)
Comments are moderated and generally will be posted if they are on-topic and not abusive.
For more information, please see our Comments FAQ