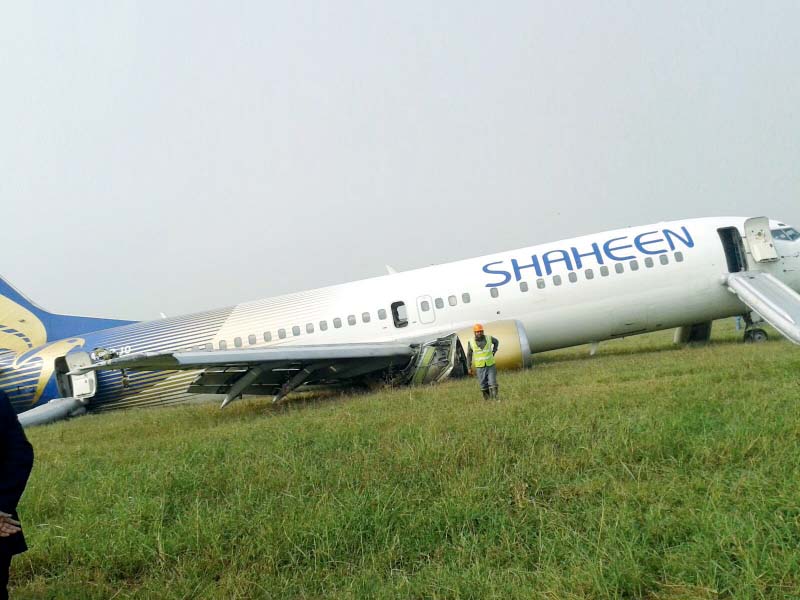 ---
KARACHI: The Civil Aviation Authority on Friday said the pilot of the Shaheen Air aircraft which skidded off the runway last week was drunk and fatigued as he flew the plane.

"The allowed blood alcohol concentration level for pilots is 0.03, but the [flight NL-142] pilot's was 0.83 at the time [of the crash]," a CAA official said.

At a meeting between representatives of airlines and CAA Director General Amjad Ali Toor, the authority put forward a preliminary medical report of the crew of flight NL-142.

"Medical investigation reports of cockpit crew of Shaheen Air International flight NL-142 just after the incident revealed that the pilot in command had unacceptable level of blood alcohol and lactate. Lactate indicates the pilot was fatigued."

On November 3, flight NL-142, carrying 121 passengers and crew, made an 'emergency landing' at Lahore's Allama Iqbal International Airport. It touched down heavily causing its tyre to burst and skid off the runway. While there were no casualties, at least 10 passengers suffered minor injuries as luggage in the overhead bins fell on them.

Published in The Express Tribune, November 14th, 2015.