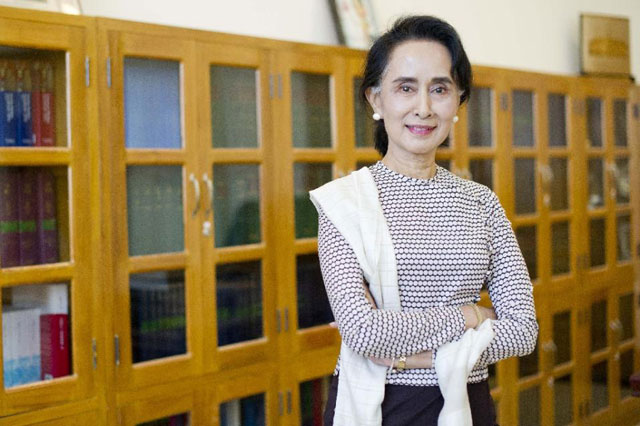 ---
YANGON: After decades of defiance, Myanmar's indomitable democracy champion Aung San Suu Kyi now stands on the cusp of government, an international symbol of resistance in the face of brutal authoritarianism.

Long isolated by the military regime — including 16 years under house arrest in her crumbling lakeside mansion — "The Lady" has led her National League for Democracy to a crushing win in Myanmar's fairest-ever polls.

For Suu Kyi, Friday's announcement of an NLD majority is the most tangible example yet of change in a life that has been intimately bound to the turbulent political struggle of her homeland.

Hope not revenge guides former prisoners after Suu Kyi Myanmar win

The daughter of independence hero General Aung San, Suu Kyi, 70, has headed non-violent opposition to the country's military rulers for three decades — a role that has exacted a high personal cost.

Detractors say her reputation as a human rights icon has diminished in recent years as she plunged herself into Myanmar's febrile politics, often choosing hard pragmatism over the idealism of her house arrest years.

But the Nobel Peace Prize winner still commands huge loyalty among supporters and retains an almost mystical draw for those wanting to see Myanmar shake off its military past.

Suu Kyi was born on June 19, 1945 in Japanese-occupied Rangoon — now called Yangon — during the closing stages of World War II.

Her father Aung San fought for and against both the British and the Japanese colonisers as he jostled to give his country the best shot at independence.

That goal was achieved in 1948 but Aung San was not around to see it — he and most of his cabinet had been assassinated just months before.

Suu Kyi spent most of her early years outside of Myanmar, first in India, where her mother was an ambassador, and later at Oxford University, where she met her British husband.

Obama calls Myanmar president, endorses election as Suu Kyi eyes majority

After General Ne Win seized full power in 1962, he forced his own brand of socialism on Myanmar, turning it from Asia's rice bowl into one of the world's poorest and most isolated countries.

Suu Kyi's elevation into a democracy champion happened almost by accident when she returned in 1988 to nurse her dying mother. Soon afterwards, at least 3,000 people were killed when the military crushed protests against its authoritarian rule.

The bloodshed was the catalyst for Suu Kyi. A charismatic orator, she found herself in a leading role in the burgeoning pro-democracy movement, delivering speeches to crowds of hundreds of thousands as she led her NLD to a 1990 election victory.

But the generals were not prepared to give up power, ignoring the result and confining to her home in Yangon, where she would live for 16 of the next 20 years. The junta offered to end her imprisonment at any time if she left the country for good but Suu Kyi refused.

That decision meant not seeing her husband before his death from cancer in 1999, and missing her two sons growing up.

The military eventually granted her freedom in 2010, just days after flawed elections that her NLD boycotted, but which brought a nominally civilian government to power.

She entered parliament two years later after the party swept a series of by-elections. Myanmar has since morphed from a hermit state into a booming economy that is open for business.

Suu Kyi party wins historic Myanmar polls

After a boisterous campaign, millions of Burmese voted last weekend in polls the outside world has praised as imperfect, but "heartening".

The junta-written constitution bars Suu Kyi from the presidency, but nonetheless she vowed last week that she will hold a position "above the president".

In so doing she issued a challenge to the army as well as a reminder to her supporters that she occupies centre stage in Myanmar's political drama.