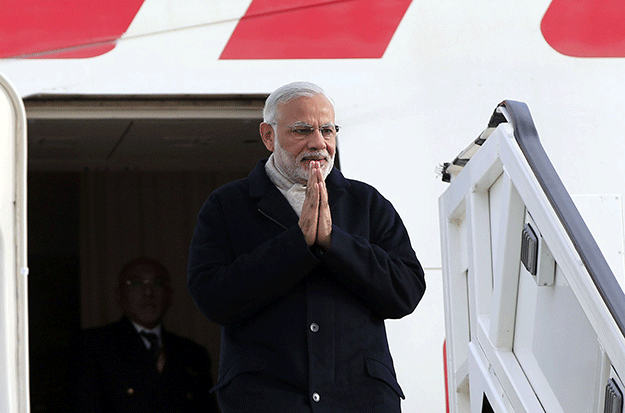 ---
LONDON: Indian Prime Minister Narendra Modi is set to address a huge rally at London's Wembley Stadium and have lunch with Queen Elizabeth II on Friday, the second day of his visit to Britain.

Up to 60,000 people are expected to attend the rally at one of Britain's most famous sporting venues, where Modi will be introduced by British Prime Minister David Cameron.

Hundreds protest against Modi visit to UK

Britain, the former colonial power in India, has a 1.5 million-strong Indian diaspora population and the event, which will include a huge firework display, is expected to have a carnival atmosphere in the wake of Diwali celebrations.

It will also feature performers including singer Kanika Kapoor and the London Philharmonic Orchestra.

The event is reportedly being funded by the Europe India Forum, a non-profit company formed by British-Indian businessman Nathu Puri.

On day one of the three-day visit to Britain, the first by an Indian leader for a decade, Cameron announced that trade deals worth £9 billion (12.7 billion euros, $13.7 billion) would be sealed on the trip.

Britain has rolled out the red carpet for Modi, but the Indian premier's arrival has also drawn protests.

Up to 500 people held a demonstration outside Downing Street against the visit Thursday before the talks with Cameron, many of them Sikhs.

Isolate those who harbour terrorists, Modi tells British MPs

Meanwhile, roughly 200 literary figures, including Mumbai-born British author Salman Rushdie, signed an open letter warning of a "rising climate of fear" in India.

Modi was elected by a landslide in 2014 but he and his Hindu nationalist Bharatiya Janata Party (BJP) have faced accusations from opponents that they are failing to protect minorities.
COMMENTS (12)
Comments are moderated and generally will be posted if they are on-topic and not abusive.
For more information, please see our Comments FAQ