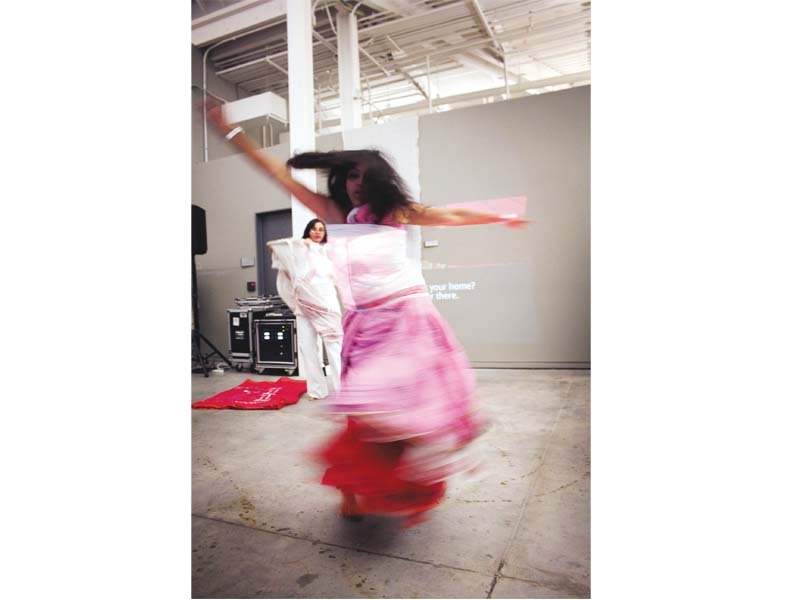 ---
A Bangladeshi woman unravels a pink sari, which rolls across the room. She flounces the yards-long piece of fabric, imitating the motion of waves and wind in a storm. As the sari unfolds, it sweeps confused spectators who are then forced to hold the garment and join the performance. A Dalit Indian man's performance is as mesmerising as he changes out of his clothes and puts on a burqa, then changes into a sari, then jeans, then a dress, before stripping bare, rubbing ashes all over himself and shattering the clay jar that holds the incense residue. An African American woman dances on the steps of Drexel University's Westphal College of Media Arts and Design, with Nas and Damien Marley's Africa Must Wake Up playing in the background and Pakistani artist Shahzia Sikander's animated artwork of swirling gold curlicues projected overhead onto the building.




These were among the acts exhibited in 'Perform(art)ive', a performance art festival hosted by Twelve Gates Arts, which took place in October at the Drexel University in Philadelphia. The festival exhibited South Asian performance art, a medium often dominated by the Western art world, according to co-curator Atif Sheikh. "I had to look for South Asian, non-Western artists and references," he said, "And there's so much out there." Sheikh said he was inspired by the rich political tradition in South Asia that uses public demonstrations to trigger change, emphasising the role of Sufis and malangs.

"Anyone can meditate and be a Sufi in the privacy of their homes, but people who choose to go out into the streets and dress up and be noticed are performing," he said.

The festival highlighted several social and political issues like caste oppression, climate change, gender injustice, racism, and queer identities. In each performance, the artist lived the reality of their art.




Monica Jahan Bose's performance 'Rising' used a 216-foot long sari, which she made collaboratively with 12 female cyclone survivors from her village in Bangladesh. "These saris were worn by the women for eight or nine months. They bathed in them, cooked in them, they lived in these saris," she says.

Indian artist and lawyer Sumit Baudh brought a personal angle to his performance, 'Yo no soy el' or 'I am not him'. He said his involvement in various social movements as a gay Dalit man affected his artwork. "There have been times when I've been part of those communities, part of those cultures," he explained, "There have also been times of disassociation. I am part of this, and in some ways I'm not." He said his work showed the pursuit of identity through denial, and how marginalised people challenge prejudice by asserting, "I am not what you think I am."

"Both Sumit and Monica are lawyers. They actually work and live their art. So activism is a part of who they are," Sheikh said.

Pakistani artist Shahzia Sikander also creates art through social relationships, noting a performance piece she did for the Sharjah Biennial II in 2013. She said she worked with an abandoned cinema in the UAE. The guard of the cinema came from Pakistan and had a special connection with the architecture. "He came as a labourer to build the cinema in 1976. It was pretty incredible to come across someone whose entire existence was still linked to this building. As soon as the building is demolished, he would have to go back to Pakistan," she said.




Qasim Riza Shaheen, who was not able to attend the festival, remodeled his 'Misplaced Memoirs' into an episodic sound piece. Anonymous performers listened and responded to his intimate love letters while blending into the audience, denoting the often silent and overlooked transience of everyday love affairs.

The final performance of the evening was a collaboration between Sikander and Danielle Currica, a Guyanese-American dancer. Sikander's gold silhouettes of Gopi hair were projected onto the building while Currica danced to Africa Must Wake Up. Currica said she'd never heard of Sikander before the festival. "I found out about the performance last week. The first person I got to speak to was Shahzia and it was amazing to sit and talk to her because she was very genuine and open about her background and her work," she said. Currica said she enjoyed the multiplicity of Sikander's work. "The work is able to transform and go through much iteration. It isn't held to one particular environment," she said.




Sheikh also stated that it was the eclecticism that made the festival successful. "We touched on many contemporary issues with the artists and their caliber has set the bar pretty high for the next exhibition," he said.

Iman Sultan is a freelance writer and activist based in Philadelphia.

She tweets @churayl

Published in The Express Tribune, Sunday Magazine, November 15th, 2015.