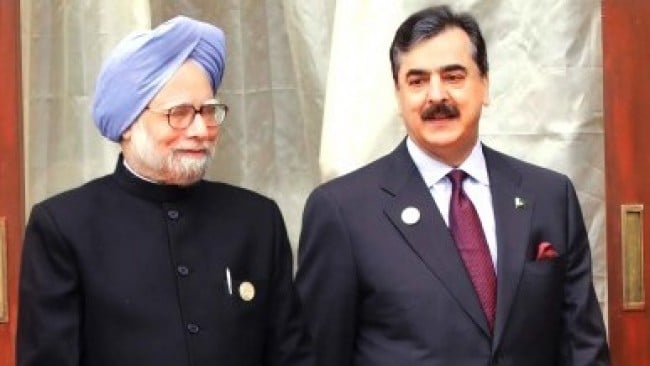 ---
KARACHI: Prime Minister Yousaf Raza Gilani and his Indian counterpart Manmohan Singh held one-on-one talks on the sidelines of the 16th Saarc summit in Thimpu, Bhutan, on Thursday.

The highly anticipated meeting between the two leaders lasted 50 minutes, with Singh and Gilani agreeing that water, among other issues, were key matters that had to be addressed. In a statement given to the press after the meeting, foreign minister Shah Mahmood Qureshi termed the conclusion of the talks "positive", and said both Gilani and Singh had acknowledged that a 'trust deficit' had plagued relations between India and Pakistan since the Mumbai attacks in November 2008. Qureshi said the foreign ministers of India and Pakistan had to bridge the trust deficit and build confidence on either side in order to take the process forward.

He also said Pakistan will bring the perpetrators of the Mumbai attacks to justice and added that further talks between the two states would cover all issues. Of the next step in talks between India and Pakistan, he said: "Siachen, Kashmir, security issues, all issues ... the dialogue will be all-encompassing." Indian foreign secretary Nirupama Rao was slightly less specific, saying that the foreign ministers and foreign secretaries of both states had been charged certain responsibilities for the next stage of talks:

"the foreign ministers and the foreign secretaries will be charged with the responsibility of working out the modalities of restoring trust and confidence in the relationship, paving the way for a substantive dialogue on all issues of mutual interest." Speaking to Express 24/7, Foreign Office Spokesperson Abdul Basit said the meeting had been "very productive," but balked at answering questions about whether Pakistan had given up on the process of 'composite dialogue.'

"We are satisfied because both countries have agreed to discuss all issues," he said. Analysts felt that the precise term 'composite dialogue' was deliberately avoided, as former secretary of foreign affairs Najmuddin Sheikh said: "it is a question of resuming the composite dialogue under a different name." Speaking to The Express Tribune, Sheikh admitted that the meeting in Bhutan was a 'substantial enough' advance in relations between India and Pakistan, which had soured after the Mumbai attacks. Commenting on what he thought had brought India back to the table in Bhutan, Sheikh said:

"India's objective was to reassure the world that there was nothing to fear from tension between India and Pakistan." The former secretary also speculated that the six dossiers handed over to India by Pakistan earlier this week could have contained information that led India to move the dialogue forward. Former foreign secretary Tanvir Ahmad Khan, however, said that 'not much' had been achieved through Gilani and Singh's meeting at the Saarc summit's sidelines. "Pakistan's insistence on restoring dialogue has been stalled," he said. Khan did admit that a great breakthrough was not really possible, adding that 'moral pressure' to hold talks had been applied to Pakistan and India by other Saarc countries and states like the US.

Commenting on possible motivations that could have driven India to meet with Pakistan at Saarc, he said that India had probably tried to use the Mumbai attacks to isolate Pakistan, which hadn't worked. "Indian policy hasn't worked to its advantage," Khan said. "It [India] is probably trying to decide what to do next." No time frame has been given for the next stage of the dialogue to resume. Former ambassador Akram Zaki, however, cast the meeting in a positive light saying that if the two leaders had not met, Pakistan- India relations would have suffered badly. The last meeting that PM Gilani and Manmohan Singh had was in Egypt, at Sharm-el- Sheikh in July 2009.

The two leaders had issued a joint statement after that meeting, which importantly delinked the issue of terrorism from composite dialogue. Pakistan's reservations about alleged Indian involvement in Balochistan were mentioned in the meeting, which caused an uproar among the Congress and the opposition in India. Relations between India and Pakistan had reached a standstill until February 2009, when the foreign secretaries of both states met and agreed to resume talks. On a more positive note, the Pakistan Prime Minister invited his Indian counterpart to visit Pakistan. This invitation was accepted, foreign minister Shah Mehmood Qureshi said.