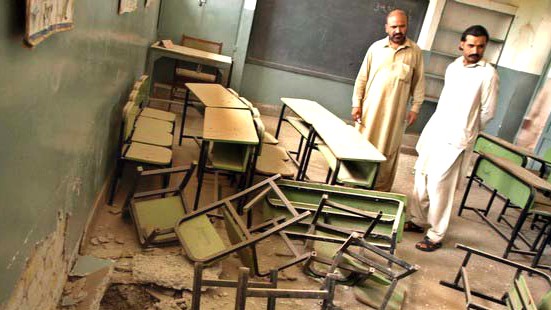 ---
PESHAWAR: At least 13 alleged militants and one security force member were killed in clashes between security forces and militants in Lower Orakzai.

According to officials, the clashes took place when security forces entered into the militants' stronghold of Mushti and Shekhan. The dead soldier was identified as Ahmad Shehzad. Meanwhile in Upper Orakzai Agency, militants blew up three primary schools. The first was a girls' primary school in Khan Meer Kalay. In the meantime, two primary schools for boys were blown up in the Mamozai area. The house of a security personnel, Khan Meer was also torched.

Meer's valuables of thousands of rupees were reduced to ashes. Earlier in the day, another girls' primary school was blown up by militants in the Ambar Tehsil of Mohmand Agency. Locals said an explosion was heard rattling early morning in the village of Musa Kor, which brought down the two room school in seconds. Riaz Mehsud, the political agent of Orakzai Agency said: "The area of Mushti Mela was cleared, almost all of Lower Orakzai has been cleared of militants now. We are planning the return of the displaced people."

Hopes for peace A delegation comprising of 250 tribal elders from Orakzai met the political agent at the Agency Headquarters in Hangu. During the meeting it was decided that those people who would return to their areas would form peace committees. Mehsud added that 26 people were arrested while they were looting houses of people who had fled from Stori Khel. "The Jirga has promised that after a peaceful return they would hand over fourteen wanted persons to the authorities," he said.
COMMENTS (1)
Comments are moderated and generally will be posted if they are on-topic and not abusive.
For more information, please see our Comments FAQ