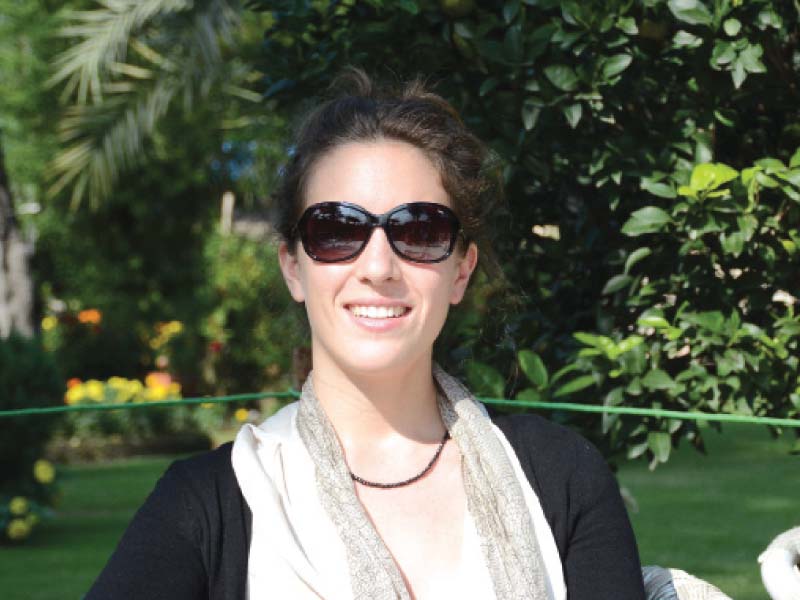 ---
ISLAMABAD: Juliette de Massy is a classical French musician visiting Pakistan on a short tour and performing in Islamabad, Lahore and Karachi. Her first stop on the tour was the capital where she performed at a recital titled 'Over the Mountains, from Bach to Piazzolla' organised as a collaborative event by the French and German embassies.

The event aimed at honouring and giving tribute to Johann Sebastian Bach, a German composer and musician of the Baroque period.

The Express Tribune sat down with the artist to get her take on classical music.

Tell us a little about the recital you are performing on this tour?

This recital is particularly special because it honours Bach, a German musician of the Baroque period. He is one of the most famous classical musicians of Europe and ever since his death in 1750; a lot of classical musicians have derived inspiration from him making him the master of classical music in Europe. The recital is special because it blends in an instrument called accordion with Bach's music. This instrument did not exist at the time of Bach so this particular experimentation makes the recital unique in its own way.

Since you're going to be singing from diverse artists, what language will you be performing in the recital?

Bach's music is going to be German but some of the songs from Piazzolla will be in Spanish. However, there is one Ayah in Italian and some even in Portuguese.

What is your native language and can you speak all these languages?

I am French so my native language is French. I cannot really speak all these languages but I can definitely sing in them. To learn a language entirely is different; learning a particular song in it means just learning the pronunciations of the words in the song.

What kind of music do you enjoy?

When it comes to performing, I perform classical music but I listen to all kinds of music and different genres as it helps me grow and gain inspiration. In terms of my performance, I do a lot of chamber music also, which includes fewer artists. I do opera as well.

What do you enjoy most about performing in France?

French musicians believe in collaborating with different artists and performing with them, which is the best thing about being a musician there. It gives a chance to experiment with music and learn a lot from fellow artists. I have travelled a lot to perform and with every trip, I feel like I become a more mature artist.

Tell us a little about where you learnt music. Do you play any instruments?

I studied music at the undergraduate and postgraduate level in London, which gave me a chance to truly comprehend different genres. Studying there also gave me an opportunity to grow among a very diverse student base. I only play piano but not professionally, just because I like to, every now and then to unwind.

How are you finding Pakistan so far?

I doubt we have time to explore Pakistan on this trip but my last tour, which was a year and a half ago, gave me a chance to see markets and hills near Islamabad, which are stunning to say the least. I would love to collaborate with Pakistani musicians and learn from them because I believe blending the works of different musicians can bring out beautiful results. Last time I visited Lahore, I attended a concert featuring qawwali music and that was a great experience. The weather in Pakistan is always something to look forward to.

Published in The Express Tribune, November 8th, 2015.