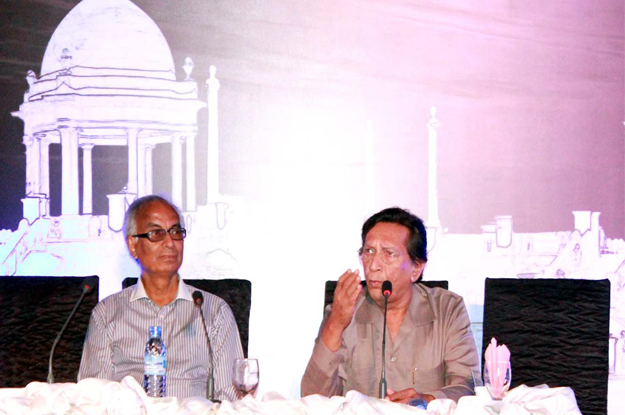 ---
KARACHI:



The history of media in Pakistan is filled with glorious achievements. Today, it has, however, become irresponsible, as the people of this profession are unaware of what their actual duty is, which is to inform and educate the people, according to actor and radio personality, Talat Hussain.




Hussain was speaking at a session, titled 'Media and The Metropolis' on the third day of the International Karachi Conference. The session was chaired by former Pakistan Television (PTV) managing director, Raana Shaikh and the panelists included media critic Asif Farrukhi.

Illusion of victory: In the eyes of the media

Speaking about the role of the media in the 60s, he said that at the time radio and small-scale print media were the only forms available. Hussain maintained that the early employees of the radio industry were well aware of their role and responsibility to the people. "They were aware that children also listened to the radio," he said, adding that news material was edited keeping this responsibility in mind back then. He felt that today, the media reports more on killings and terrorism than anything else. He asserted that it only creates confusion amongst the people.





Talat Hussain, Asif Ansari




Hussain suggested that the ministry of information should take notice of what media is portraying and regulate it. "We are only showing nonsense on TV these days," commented Shaikh.

Hussain said PTV's early dramas are still famous today because they represented society's values and dealt with its issues. Even the Indian drama industry has copied Pakistani dramas because of this, but today the Pakistani drama industry depicts only family politics, he lamented.

Asif Ansari, a PTV producer from its glory days, described the day of PTV's inauguration, taking the audience back in time. Speaking about the early days of the PTV Karachi centre, he related a humorous anecdote of how former president Ayub Khan's clothes were stained with the colour of the sofa because it was painted just before he reached the station. Highlighting the milestones in PTV's history, Ansari told the audience of the 1972 cricket match between Pakistan and Australia, the first to be telecasted live in the country, as well as about 'Parchaiyan', the first coloured drama to be broadcasted in the country.

Media invasion of private lives

Speaking about the coverage of special events, such as the elections of 1970 and the Indo-Pak war of 1971, Ansari said PTV had arranged a special coverage plan. "A special song, 'Hum Mustavi Hain', was prepared for the Islamic Summit of 1974," he recalled.

"People now immediately change the channel when they come across PTV," remarked Farrukhi. "PTV had a golden period, but it has been over for a while," he said.

Published in The Express Tribune, November 9th, 2015.
COMMENTS
Comments are moderated and generally will be posted if they are on-topic and not abusive.
For more information, please see our Comments FAQ