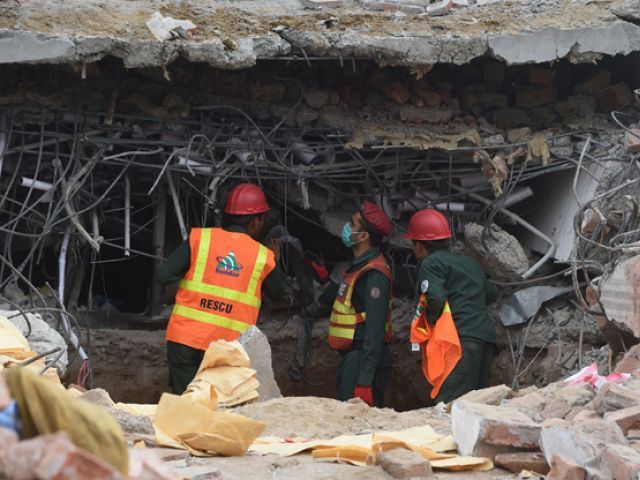 ---
LAHORE:



Scores of people whose relatives were employed at a factory that collapsed this week in Sundar Industrial Estate have gathered at the site, waiting for news about the recovery of their relatives from the debris.    




Some families, arriving from far off districts, have set up temporary residence on the green belt opposite the collapsed building. The city district government has also established a waiting area on the site.

They say they have visited several hospitals and morgues but were yet to locate the bodies of their relatives. Ishfaq, a resident of a village in Kasur district, says he has been visiting the site for four days in anticipation of some news about his elder brother, Muhammad Naveed, who was employed at the factory. He says Naveed was around 18 years of age and had been working at the factory for one and a half year.

He says he and some other men from his village had rushed to the scene immediately after watching the news of the collapse on television. "We have visited several mortuaries. We did not find the bodies of our relatives there," he says. He says several bodies he saw at the mortuaries were not identifiable.

Ishfaq says 12 boys from his village were employed at factory. Like his brother, the rest of the boys had secured the employment through a maternal uncle of Ishfaq, Muhammad Mustafa. Mustafa, who was in the building when it collapsed, had been a labour contractor at the factory, he says. Mustafa has been hospitalised with a head injury.

Muhammad Hanif, a worker at another factory in the area, says his two brothers were at the factory when it collapsed on Wednesday. "I have yet to locate them," he says.

The Red Crescent Society is operating a site office to help relatives track missing workers. Muhammad Shahnawaz Khan, a manager at the society, says they have received requests from 25 families who say their children were employed at the factory.

Lahore DCO Captain (r) Usman, who is overseeing the rescue work, says there could still be 10 to 12 bodies under the debris. He says identification of bodies recovered from the rubble would start once the rescue work was complete.

Published in The Express Tribune, November 8th, 2015.