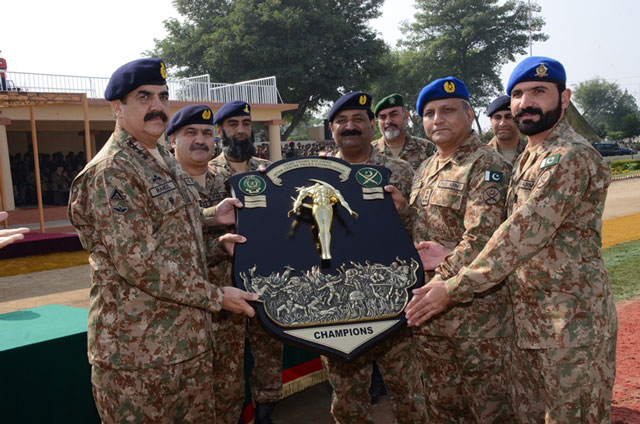 ---
Chief of Army Staff (COAS) General Raheel Sharif said on Friday Pakistan Army was the most battle-hardened army, claiming the overwhelming achievements in fight against terrorism spoke volumes of the force's professional competence.

"Our overwhelming achievements in fight against terrorism speak volumes of our professional competence, which has also been acknowledged globally," General Raheel said while addressing the closing ceremony of the 3rd Physical Agility and Combat Efficiency Championship held near Attock.

Any threat to Saudi Arabia will evoke strong response from Pakistan: army chief

Emphasising on the need of physical fitness for a soldier, the COAS also lauded the performance, competitive spirit and efforts of both trainers and trainees in achieving remarkable standards.

"All teams participated with extraordinary vigour and demonstrated highest level of motivation, agility and physical fitness," a statement issued by the military's media wing, ISPR, quoted him as saying.

The army chief added it was heartening to note that soldiers of Pakistan Army were way above the international standards laid down to judge the physical efficiency.

"Physical fitness helps in improving self-confidence and competence of a soldier," he said.

General Raheel also appreciated the soldiers setting new records and encouraged them to participate in national and international events.

Army, FC soldiers' indomitable courage bedrock of Zarb-e-Azb: Gen Raheel

Underlining the need of focused training, the army chief said it was the heart and soul of combat readiness, which contributed positively towards success on the battlefield.

The COAS also awarded trophies to winner and runner up teams and medals for best individual performances.

He was received by IG Training and Evaluation Lt Gen Qamar Javed Bajwa upon arrival.