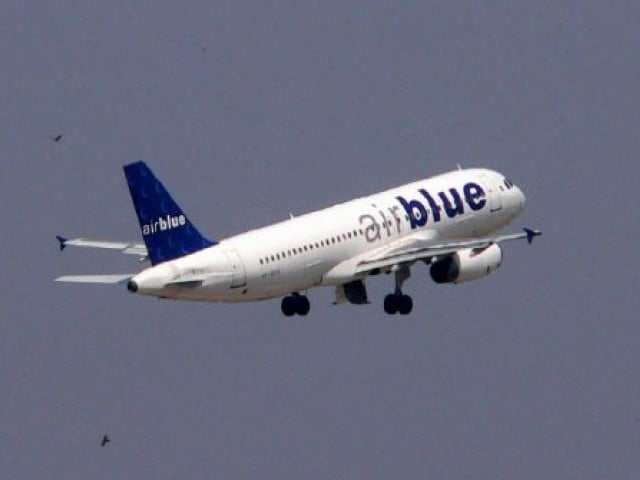 ---
KARACHI: Encouraged by a tax waiver, private carrier Airblue has decided to add four Airbus 321s to its fleet over the next few months, according to officials.

The announcement was communicated to Prime Minister's Special Assistant on Aviation Shujaat Azeem in a recent meeting held to review the progress on the new aviation policy.

China completes production of own passenger plane

"We are pushing airlines to invest and expand operations," said Azeem, adding that it was the best time to make the most out of the new aviation policy while the fuel price was down.

The National Aviation Policy 2015 introduced earlier this year has further liberalised air space by encouraging investment in the airline industry and its auxiliary operations.

The reduction in taxes and duties on the import of aircraft and their spare parts has been the highlight of the recent aviation policy that earlier used to blot up the cost by as much as 35%.

Despite the incentives offered, except Pakistan International Airlines (PIA), which leased 15 aircraft in the last two years on the back of government support, other airlines have been reluctant to invest aggressively.

New Airbus design stacks passengers on top of each other

"The aviation policy is a step in the right direction, especially with its focus on taxing revenue instead of investment," said Airblue Managing Director Junaid Khan.

It is time for the Ministry of Finance to realise that taxing domestic airfare heavily will result in a retarded growth for the industry.

"Taxes make up around 30% to 35% of domestic airfare," noted Khan. "This shouldn't be more than 4% to 5%."

Pakistan's passenger traffic has been stagnant for the past couple of years, making some of the officials at the Civil Aviation Authority (CAA) sceptical about the incentive-led growth model.

PIA to lease seven new jets, expand fleet




"Change won't come overnight," added Khan. "For argument's sake, I would relate our situation to that of the telecom industry. Who would have conceived 20 years ago that even a milkman would be carrying a mobile phone?"

"Similarly, people need to travel; our job is to only make it affordable."

However, domestic airline history is replete with failures.

Pakistan adopted an 'Open Skies' policy in the 1990s, allowing competition on domestic routes and giving broader access to foreign airlines.

Chinese firms sign deal to buy 300 Boeing planes: Xinhua

More than 20 licences were issued to airliners but none except Shaheen Air survived. Aero Asia, Bhoja Air and others succumbed to financial troubles.

Air Indus, the youngest of the four domestic airlines, is also struggling to revive its operation after running into problems with the CAA over its inability to lease jets.

A capital-intensive business, airlines are often run and sponsored by people who do it more for the charm and prestige of it than its return on capital, which takes years to come.

The risk-averse nature of Pakistani banks has not helped the airlines either. A narrow-body jet is leased for around $50 million.

Aviation advisor Shujaat Azeem says he has decided to take on this challenge and has called up a meeting with top bankers to have their opinion on the matter.

Published in The Express Tribune, November 6th, 2015.

Like Business on Facebook, follow @TribuneBiz on Twitter to stay informed and join in the conversation.