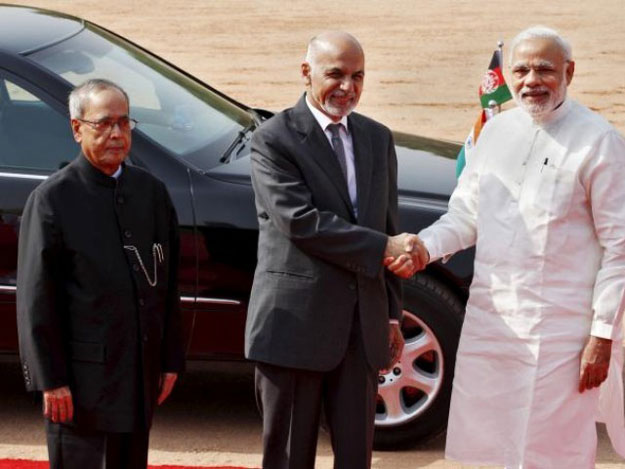 ---
India's goals are to deny Pakistan "strategic depth" in Afghanistan and the ability to block India from trade and other connections to Central Asia and beyond, and to prevent militants in Afghanistan from attacking Indian targets.

This was revealed in a US Congressional report , published in October.

Indian, Afghan leaders pledge to fight militants, build trade

The report by the Congressional Research Service further stated that they saw the Afghan Taliban's hosting of al Qaeda during 1996-2001 as a major threat because of its association with a militant organistation in Pakistan seeking to thwart India's control in Indian-held Kashmir.

As for relations between Afghanistan and India, the report said the former had "sought close ties to India—in large part to access India's large and rapidly growing economy—but without alarming Pakistan."

Key Pakistani-Afghan trade deals stall on India, souring ties

The 'Strategic Partnership' agreement which was signed between the two countries on October 5, 2011 in New Delhi "affirmed Pakistani fears by giving India, for the first time, a formal role in Afghan security," the report adds. Under the agreement, the two sides had agreed for India to train some 600 ANDSF personnel in India.

According to the report, former Afghan president Hamid Karzai had visited India after the Afghanistan-Pakistan border clashes in early May 2013 to seek sales of Indian artillery, aircraft, and other systems that would help it better defend its border with Pakistan. He had visited again in mid-December 2013 to again request for the sales of weapons. However, India reportedly declined "in order not to become more directly involved in the conflict in Afghanistan or alarm Pakistan". Further, current Afghan President Ashraf Ghani has withdrawn the request "to avoid complicating his outreach to Pakistan".

Pakistan must allow Afghanistan direct trade access to India through Wagah: Ghani

Moreover, the report stated that India's relationship with the Afghan government and with individual factions reflects India's concerns about "potential preponderant Pakistani influence" in post-2014 Afghanistan. In the mid-1990s, India had supported the Northern Alliance against the Taliban and it still retains ties with the Alliance. According to the report, many Northern Alliance figures "have lived in India at one time".

Despite India's fear of Pakistan's influence in Afghanistan, the report says that it reportedly "does not want to be saddled with the burden of helping secure Afghanistan as US-led forces depart". Indian Prime Minister Narendra Modi has not changed India's policy on Afghanistan, the report adds.

The report also stated that US-Pakistan cooperation on Afghanistan has "improved somewhat". Further, it noted that for several years after the September 11, 2001, attacks, "Pakistani cooperation against al Qaeda was considered by US officials to be relatively effective."

No need for concern over growing ties with Pakistan, Afghanistan tells India

Further, it mentioned that Pakistan had arrested over 700 al Qaeda figures and allowed US access to Pakistani airspace, some ports, and some airfields for the major combat phase of OEF. It added that Pakistan did not fulfill its May 2009 pledge to establish a "border coordination center" (BCC) on the Pakistani side of the border, although four were established in Afghanistan.

.
COMMENTS (19)
Comments are moderated and generally will be posted if they are on-topic and not abusive.
For more information, please see our Comments FAQ