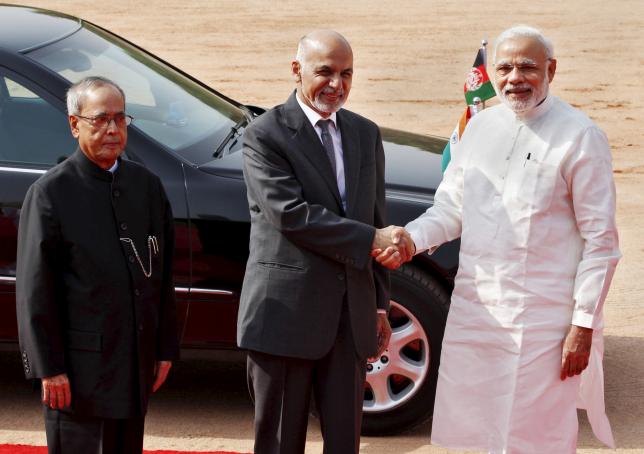 ---
NEW DELHI: Afghan President Ashraf Ghani called on Tuesday for regional cooperation to defeat violent extremist groups, saying after meeting the Indian prime minister that he wants to "make Afghanistan a graveyard of terror" but needs help from India, Pakistan and other neighbours.

Ghani's visit to India comes amid his efforts to forge closer ties with neighbours Pakistan and China, prompting some Indian analysts to fret that New Delhi may be losing influence in Afghanistan.

"Terror cannot be classified into good and bad. It cannot be differentiated," Ghani said, after meeting India's Prime Minister Narendra Modi during a three-day state visit.

"We must have a unified approach, we must be united both in the region and globally to contain this terror."

Read: Afghanistan receives 3 Cheetal helicopters from India: report

Modi, for his part, pledged continued support for Afghanistan's fight against the Taliban and other violent extremists and renewed commitment to developing both land and sea trade routes with the country.

"We share Afghanistan's pain over persisting terrorism and extremist violence that destroy lives and derail progress," Modi said in remarks distributed by his office, adding that India would continue to help build the Afghan military and recently delivered three Cheetal helicopters.

Modi also said India should join an existing Afghan-Pakistan Trade and Transit agreement to allow goods to flow by land from Afghanistan to eastern India and back.

And he reaffirmed a commitment to move forward with developing a deep-water port in the Iranian city of Chabahar, which would give land-locked Afghanistan a route to the sea other than through Pakistan, India's regional arch-rival.

Read: Insurgent mortar attack kills five in Afghanistan: officials

"We believe that Afghanistan's direct surface link to India and the rest of South Asia, and increased connectivity to sea, could turn Afghanistan into a hub that connects Asia's diverse regions and beyond," Modi said.

Ghani thanked India for pouring $2.2 billion in aid into his country's development over the past decade and outlined an ambitious vision for his war-ravaged nation to achieve piece and return to its centuries-ago status as a crossroads for regional trade.

"Afghanistan was a roundabout, a place where ideas, people and goods came and flowed from South Asia to Central Asia to West Asia," Ghani said.

"Our vision today is to be guided by that potential where again the energy of Central Asia will flow to South Asia where pipelines, fiber optics, railways, and connectivity, air, ground and virtual will connect us."
COMMENTS (2)
Comments are moderated and generally will be posted if they are on-topic and not abusive.
For more information, please see our Comments FAQ