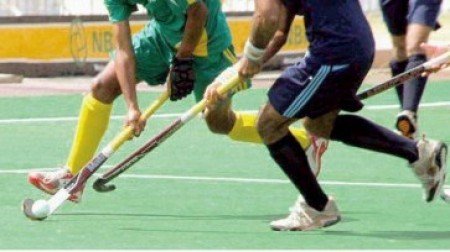 ---
KARACHI: Discarded Pakistan forward Shakeel Abbasi has lashed out at the Pakistan Hockey Federation's (PHF) decision to omit him from the Malaysia bound Pakistan squad adding that he feels insulted at the snub.

Hanif Khan, Pakistan's chief selector, announced an 18-man squad for the Azlan Shah Cup to be held next month while omitting three seniors: Abbasi, Sohail Abbas and Rehan Butt and naming Mohammad Imran as the team's new captain. "If they wanted me to rest then why did the selection committee pick me for the camp," said Abbasi."We fared poorly in the World Cup but my performance was good. I also showed progress during the National Hockey Championship and in the training camp."

According to Abbasi, the PHF has been unfair to him, adding that secretary Asif Bajwa had asked Abbas and Butt to rest from the camp while confirming that he will be included in the team. "I am not sad, I am insulted. I can't even face the youngsters because they ask me why I'm not there in the squad." The other discarded forward, Butt, agreed with Abbasi's views saying he respects the selection committee's decision of sending youngsters to the tournament but assured doubters that he was not tired or unfit and had decided to join the camp after the national championship because he felt fit and fresh.

"I don't know whether they dropped us or they really mean it when they said they are giving us rest but I feel fit and ready to play," said Butt. The PHF coach, Khwaja Junaid, however, justified the selection committee's decision to drop the trio saying that they did not deserve to be in the squad after their poor performance in the World Cup. "I think it is the right time to give rest to these players," Junaid told The Express Tribune. "After the World Cup they looked stressed out, the management and even the youngsters in the camp could feel the pressure on them."

The announcement came as a complete u-turn with the selection committee and the coach placing much emphasis on the seniors in the days leading up to naming the squad. Abbas, the penalty-corner specialist, was even tipped for the captain's arm-band. While Junaid also thought it was a good time to give youngsters a chance and try out new combinations, he felt that the seniors were given due respect by him and the selection committee, and the doors were always open for the seniors to make their return to the team.
COMMENTS
Comments are moderated and generally will be posted if they are on-topic and not abusive.
For more information, please see our Comments FAQ