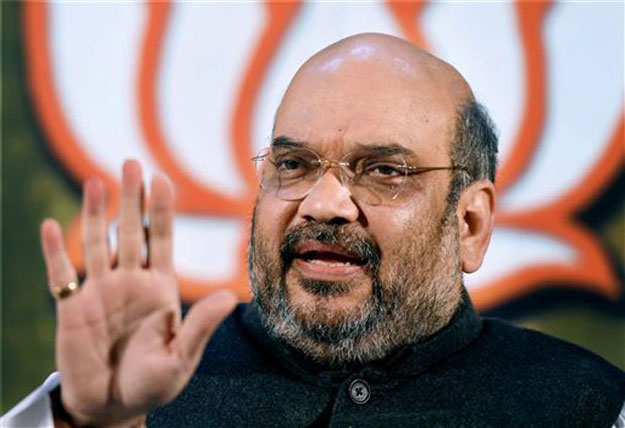 ---
India's Bharatiya Janata Party (BJP) president Amit Shah said on Thursday that if his party loses elections in Bihar by mistake, firecrackers will be set off in Pakistan.

Addressing an election rally in Raxaul, he asked the audience if they wanted crackers to go off in Pakistan while appealing to them to vote for BJP, NDTV reported.

"Do you want the return of Jungle Raaj-2? If by any mistake BJP loses, victory and defeat may be in Bihar but fire crackers will go off in Pakistan. Do you want crackers being burst in Pakistan?" he said.

Shiv Sena targets Mahira, Fawad

Elaborating on the 'cracker remark', BJP state president Mangal Pandey, who accompanied Shah, told The Indian Express, "There is nothing defeatist about Shah's cracker remark. He said it in the right context, he was targeting Nitish for being soft on terror."

With just two rounds of voting left in the five-phase Bihar assembly polls, BJP has been targeting the Nitish Kumar government for being "soft on terrorists". The BJP is locked in a very close battle in the state with what is called the "Grand Alliance" made up of Bihar chief minister Nitish Kumar's JDU and Lalu Yadav and the Congress.

BJP taunts Shiv Sena for hosting Javed Miandad

Rival parties have criticised Shah's comment as an attempt at polarising voters. "This is the old practice of the BJP. They practiced it in Gujarat as well. They always wanted to play this communal card to win elections. Questioning the mandate of elections, they are dividing Bihar," alleged Congress' Tom Vadakkan.

Shah along with Indian Prime Minister Narendra Modi has fronted the BJP's campaign in Bihar elections. Voting has been held for a little over half of Bihar's 243 seats in three phases. The last two phases will be held within the next week and votes will be counted on Sunday, November 8.

The trade of barbs

The BJP, which had won a series of state elections after it came to power at the Centre last year, was crushed by the Aam Aadmi Party in New Delhi this year, the last assembly election it contested.

This article originally appeared on NDTV.
COMMENTS (18)
Comments are moderated and generally will be posted if they are on-topic and not abusive.
For more information, please see our Comments FAQ