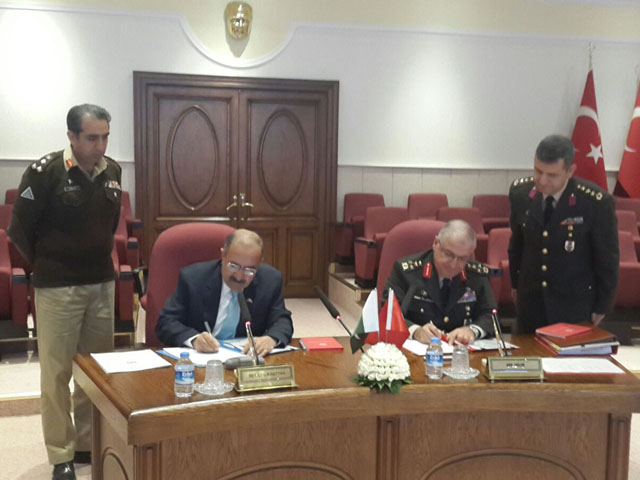 ---
ISLAMABAD: Turkey will provide 34 T-37 aircraft and their spare parts to Pakistan free of cost in a landmark deal signed between the two countries in Ankara, an official announcement said on Wednesday.

On Pakistan's desire of acquiring the aircraft, Turkey decided to provide 34 T-37, a jet trainer and light attack aircraft, without charging a single penny, said the defence ministry statement.

The agreement was reached during the meeting of Pakistan-Turkey High Level Military Dialogue Group (HLMDG) which concluded in Ankara on Wednesday.

US set to sell eight F-16 fighter jets to Pakistan

Director General Defence Procurement Maj Gen Naveed Ahmed and Chief of Logistics Turkey Maj Gen Serdar Gulbas signed the agreement, while a Joint Communiqué was signed by Secretary Defence Lt Gen (Retd) Muhammad Alam Khattak and Deputy Chief of Turkish General Staff Gen Yasar GULER.

During the visit, secretary defence highlighted Pakistan's defence capability and military capacity and requirements keeling in view the current global perspective.

Russia agrees to sell Pakistan four MI-35 attack helicopters

Highlighting the exemplary brotherly relations between the countries, the secretary said, "Pakistan desires to further translate these relations into strategic cooperation, signifying strategic importance of our relations".

Both sides agreed to enhance cooperation at regional and multinational forums including UN,OIC, ECO and D-8.

While expressing his views in High Level Military Dialogue Group (HLMDG) on regional and global security, Khattak said that both working groups have done considerable work to review progress on decisions that were taken in last HLMDG meeting as well as new agenda relating to politico-military matters and defence industry cooperation.

Pakistan wins first JF-17 order at Paris Air Show: PAF

He also expressed desire to further expand the cooperation between defence industries from strategic to joint venture levels.

The agreement is reached at a time when Turkey is believed to be seeking Pakistan's increased security and defence cooperation to deal with the emerging threat posed by Islamic State terrorist group as well as Kurdish rebels.