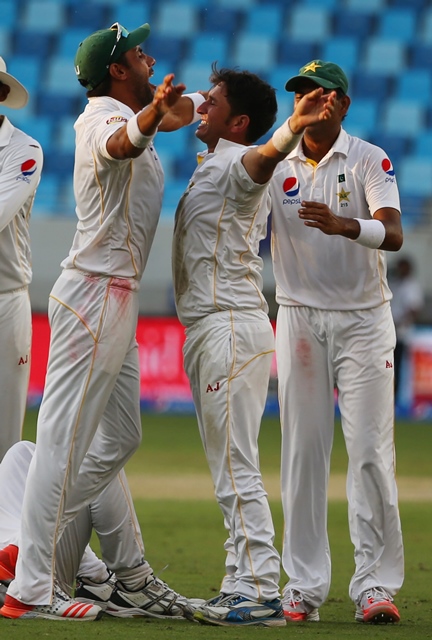 ---
Australian spin legend Shane Warne believes Yasir Shah is one of best leg-spinners in the world at the moment and he is willing to meet the Pakistan leg-spinner soon in order to have a bowl with him.

Yasir, who jumped up to the number two position in International Cricket Council's Test rankings, took eight wickets in the second Test match against England in Dubai which Pakistan won go to 1-0 up in the three-match series.

Yasir Shah's Warne-ing to England

His admirer, Warne, meanwhile admired his fluency with the ball and said that Yasir needs to calm down a little bit when he is bowling.

"I would love to have another session with him," he said at the launch of the Icons of Cricket Golf Tournament on Tuesday, quoted by Khaleej Times.

"If I can find some time this week I'd love to go down and have a bowl with him. I'm looking to get as much practice as I can.

Yasir becomes second best In Test ranking

However, the Australian had a word of advice for him as well.

"I think he's a fantastic, wonderful bowler," said Warne.

"Sometimes, from what I've seen, he looks a bit impatient - he has all the toys, he just needs to slow down a little bit, take a breath. Just chill out and set a batsman up a little bit more rather than just ripping legbreaks, wrong 'uns, straight ones, going around the wicket, over the wicket. He just needs to toil away a little more."

Warne wants to train with Yasir Shah

Warne also praised England leg-spinner Adil Rashid and carved out a comparison between him and the Pakistani leggie.

"They are completely different bowlers, Yasir is a real hustle-and-bustle leg-spinner. To me he's the best in international cricket at the moment, and Rashid will hopefully get better. He's not as fluent as someone like Yasir, but that doesn't mean he's not as effective. If he gets his confidence up I think he can be a real handful."