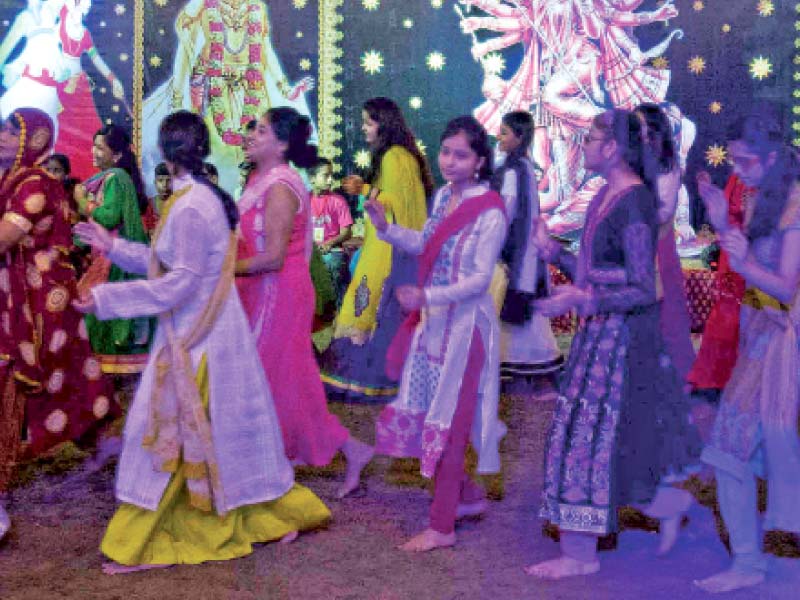 ---
KARACHI: The Navratri festival came to an end on Wednesday evening with joyous celebrations and mass prayers inside temples.

The Hindu community celebrates the nine-day festival, in which the goddess Devi or Maa Durga Shakti is worshipped and fasts are observed. On Thursday, the 10th day known as Dussehra, congregational prayers were held and sweets were shared with community members.

Karachi students form human chain outside temple to protect Hindus celebrating Holi

"The younger generation of Tharparkar's Hindus are mostly in cities like Karachi so you don't get to see theatrical performances of Raam-Leela or garba [dances around lighted lamps] there," says 26-year-old Nitesh Kumar Rathi, who moved to Karachi from Chelhar in search of work. "We [put on] such performances if we are in Tharparkar at this time of the year. Otherwise we enjoy them in Karachi's big temples."

The Raam-Leela performance is a segment of Navratri, as it was in one of these nine days that Raam killed the evil force, Raavan, and goodness overpowered evil. "There is a lot of work that goes into the performance of the play. The whole act is scripted; costumes for Raam, Sita and Hanuman are prepared. Then the gigantic figure of Raavan is assembled to be torched with firecrackers," explains Rathi. "All this can't be managed by our family elders back home in Tharparkar but we do have poojas [prayer ceremonies] in which the pundits pray for seven to eight hours straight," he said.

"I am really fond of going to India and experiencing Navratri there. Thousands go for garbas and celebrate. It is a sight worth watching," he explains excitedly.

Persecution forces 60 Hindu families to migrate to India

Spiritual awakening

Mangla Sharma, a resident of Karachi, explained how the kheer-offering ritual is a meaningful tradition on Dussehra. "It's after havan [the worship of sacred fire] that kheer is offered to young girls between the ages of two and nine," she told The Express Tribune. "It's a meaningful tradition to bless the young girls who will one day grow up to be mothers."

Lit lamps also constitute as an integral part of the nine-day celebration, as their flames are kept burning at homes. Then, on the final day, some families take these lamps to temples, while others head for water streams and let them float away. "We believe that, as the lamp flows with the water current, it spreads light in one's life.  There is a certain element of coolness and tranquility that the swaying movements of lamps bring on a spiritual level," she said.

A pre-Partition mandir and the struggle to protect it

Quiet celebrations

Just like in Tharparkar, the celebrations in Mirpurkhas are also kept low-profile and people mainly commemorate the occasion within the confines of their homes. "There is no concept of Raam-Leela performances in Mirpurkhas. It is largely celebrated among Gujratis so you might witness it a lot in Karachi," said Sharma, about her experience visiting Mirpurkhas during the Navratri festival. "The occasion is more focused on poojas here. Plus there are not many facilities available to organise such events," she said.

Published in The Express Tribune, October 23rd, 2015.
COMMENTS (6)
Comments are moderated and generally will be posted if they are on-topic and not abusive.
For more information, please see our Comments FAQ