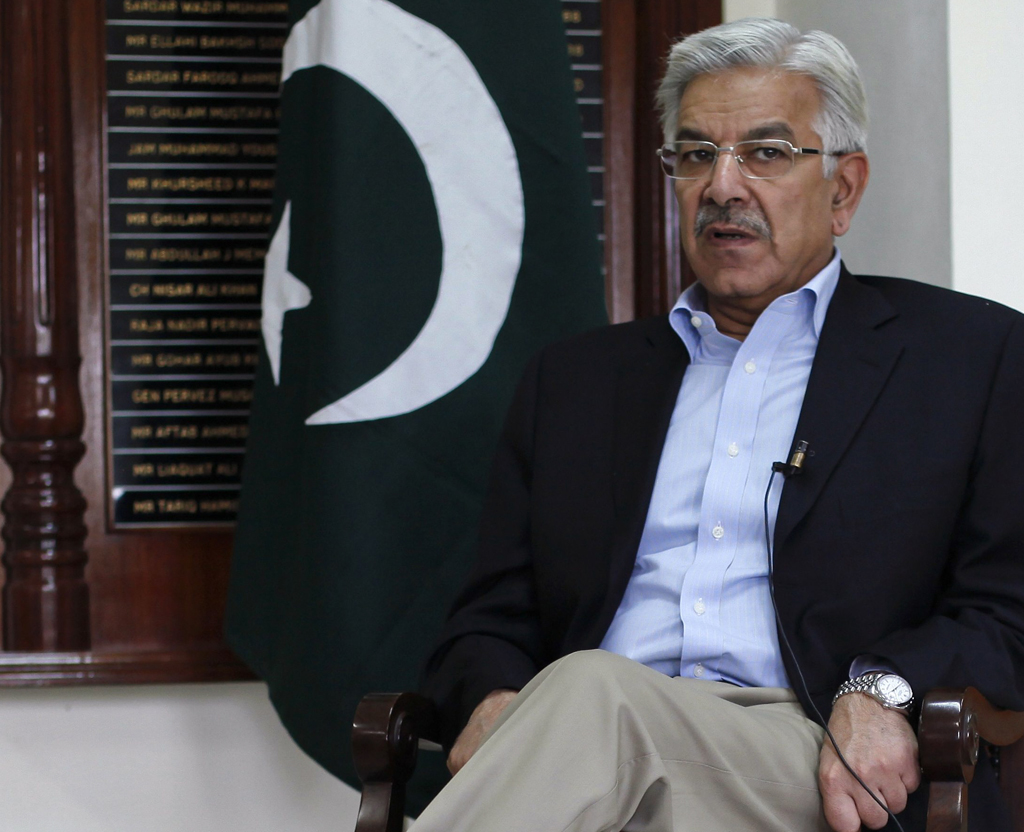 ---
BEIJING:



Defence Minister Khawaja Muhammad Asif has said that Pakistan's military has eliminated all members of the Uighur militant group, the East Turkestan Islamic Movement (ETIM), from its territory, but must remain vigilant to ensure they don't return.




China blames ETIM for carrying out attacks in its far western region of Xinjiang, home to the Uighur people. China, Pakistan's only major ally in the region, has long urged Islamabad to weed out what it says are militants from Xinjiang, who are holed up in the tribal belt.




"We believe they're all eliminated," Asif told reporters on the sidelines of the Xiangshan security forum in the Chinese capital on Sunday. "I think there (were) a small number in tribal areas, they're all gone or eliminated. There are no more there."

It is just as much in Pakistan's interests as China's to fight Uighur militants, Asif said, denying there was any difference of opinion between Beijing and Islamabad on Pakistan's efforts to tackle the problem.

"The fight against ETIM is our own fight. It's not only China's fight. It's a joint fight against ETIM, between Pakistan and China, so there is absolutely no difference of opinion on the elimination of ETIM from our tribal areas," he said, adding that "We have to be vigilant for a long  time that this menace, this infection, does not return."

Last year in mid-June, Pakistan's military mounted a massive offensive, codenamed Zarb-e-Azb, in North Waziristan Agency to flush out Taliban insurgents and their foreign cohorts, including ETIM militants. A few months later, a similar military operation was launched in Khyber Agency where militants fleeing from North Waziristan had found shelter.

Pakistan's military has conducted several operations in the tribal belt since 2003 and Zarb-e-Azb's victories outnumber the achievements of international forces fighting a Taliban insurgency in neighbouring Afghanistan for the last 13 years, Asif told the plenary session of the Xiangshan Forum. "The world needs to recognise the sacrifices by Pakistan over the past three decades."

Continued instability in Afghanistan has had severe impacts on Pakistan, he said, adding that Pakistan had suffered a loss of 60,000 lives and billions of dollars in economic loss. A stable and peaceful Afghanistan is guarantee for peace and stability in Pakistan and the whole region, he said and appreciated China's "proactive and positive efforts" for finding peaceful resolution of the conflict in Afghanistan.

China and Pakistan are getting ready to finalise a deal for China to sell eight submarines to Pakistan, Asif said, in what could be one of China's largest overseas weapons sales once it is signed. "It's moving smoothly, it's going ahead," he said. "We are at the final stage. I think it won't take very long."

The two countries have already signed a multibillion-dollar road and rail project that will connect Xinxiang with the Gwadar deep seaport in southern Pakistan. Pakistani officials say the ambitious project will be a game changer for the region.

Economic benefits from the China-Pakistan Economic Corridor could be accrued only through peace which would usher in a new era of development and prosperity in the region, Asif said.

Referring to security and stability in South Asia, he said all disputes needed to be resolved amicably to offset chances of escalation. While Pakistan has been forcefully advocating early resumption of dialogue with India, there is a need to reduce tension by avoiding escalation of hostilities at the Line of Control and the Working Boundary, he added.

Published in The Express Tribune, October 19th, 2015.
COMMENTS
Comments are moderated and generally will be posted if they are on-topic and not abusive.
For more information, please see our Comments FAQ