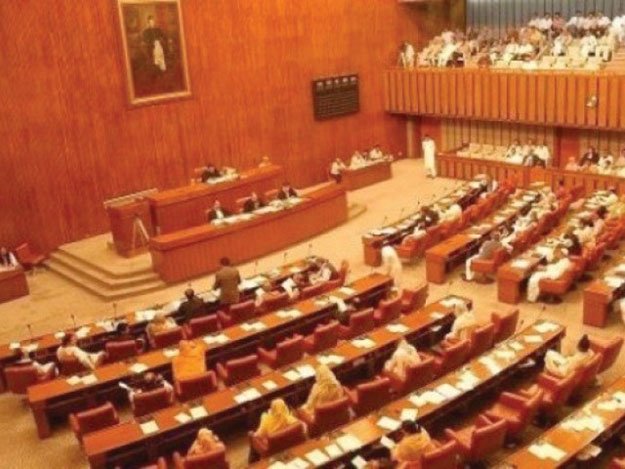 ---
ISLAMABAD:



The Senate on Monday observed a 'black day' to mark the October 12, 1999 coup staged by former military dictator General (retired) Pervez Musharraf to topple a democratically elected government.




Senators on both sides of the aisle condemned the coup as the house debated Gen Musharraf's dictatorship. Lawmakers also pointed out how some people who had stood with the former president could still be seen in the power corridors.




Chairman Senate Raza Rabbani lamented that a person who had almost brokered a behind-closed-doors settlement over Kashmir with India (as revealed by former foreign minister Khurshid Kasuri in his book) was living happily in Karachi. "Had this deal been brokered by any civilian, he would have met the same fate as Pakistan Peoples Party (PPP) founder Zulfikar Ali Bhutto."

Read: Musharraf takeover: '99 coup was a black day: Shahbaz

Rabbani noted with concern that some associates of Musharraf "were still in the federal cabinet."

The ruling Pakistan Muslim League-Nawaz (PML-N), whose government had been toppled by Gen Musharraf In 1999, was caught unawares by Monday's debate as some of its senators gave conflicting statements.

Senator Usman Khan Kakar of the Pukhtunkhwa Milli Awami Party (PkMAP) had moved a motion on October 5 to discuss the "existing political situation in the country". But the house took up the motion on Monday, coinciding with the coup's 16th anniversary.




Kakar condemned Musharraf's acts and warned that conspiracies were being hatched against politicians as "once again people are saying that the democratic government is failing."

Chaudhry Tanveer of the PML-N endorsed Kakar's views and suggested that all political parties should formulate a national agenda to address concerns of all provinces. He added that the public today had a favourable view of the army and that General Raheel Sharif was doing his job.

Mushahidullah Khan of the PML-N hailed political workers who had struggled against the dictator, regardless of their political affiliations. Claiming that Musharraf's actions had tarnished the reputation of the military, he said that a repeat was undesirable.

Read: If Musharraf is to be tried for 2007 emergency, try him for coup as well: Altaf

He added that whenever the army had taken over, there had been problems and that the military should focus on its constitutionally prescribed role. "History will judge the role Prime Minister Nawaz Sharif, Army Chief General Raheel Sharif and others have played."

PML-N's Lt. Gen (Retd) Salahuddin Tirmizi, while condemning Musharraf's coup, criticised politicians – including some from his own party. "Whenever a military dictator has taken over, we politicians have rushed to support him and take oath (from dictators)."

"PML-N is my party but I have no hesitation in saying that those who stood with Musharraf are still in the cabinet."

Lt Gen Tirmizi added that a compulsory section should be included on candidate nomination papers that require a pledge of not supporting dictators.

Published in The Express Tribune, October 13th, 2015.
COMMENTS
Comments are moderated and generally will be posted if they are on-topic and not abusive.
For more information, please see our Comments FAQ