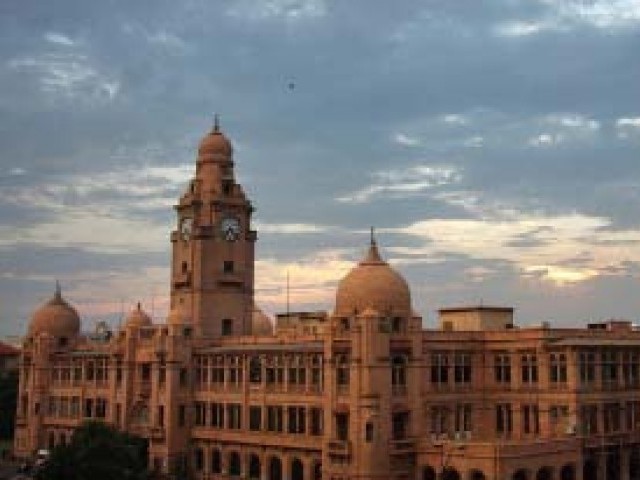 ---
KARACHI: Litigations linger for years as government officials fail to reply to court notices on time. To change this practice, the Sindh High Court (SHC) decided to make an example out of a few city administration officers.

On Tuesday, the SHC imposed a fine of Rs10,000 on four Karachi Metropolitan Corporation's (KMC) senior officer for filing their statements late. All of them have been ordered to pay this amount to the SHC Clinic by October 15 otherwise they will lose the temporary relief granted to them in return of the amount of fine.

Case history

The fine came on a Rs200 million lawsuit filed by the management of the University of Karachi (KU) management in November 2010, challenging the lease cancellation of 7.2 acres in Scheme 36, Deh Safooran, which were given to the varsity in 1954.

The plaintiff had argued that it had completed all the legal requirements and made payments after which it was granted physical possession of the land in question. The survey documents were also prepared.

KU had gone to court against the administrator of the then City District Government of Karachi, the district coordination officer, the executive district officer for revenue, the executive district officer for the master plan group and the deputy district officer for land.

On September 11, 2009, the KU management was intimated that the land had been disposed of among the general public through an auction by the Karachi Development Authority (KDA). The plaintiff had claimed Rs200 million damages from the four defendant officers. The court was also pleaded to declare that the varsity is the absolute owner of the land.

On Tuesday, Advocate Irfan Hassan Ansari filed the power of attorney on behalf of the defendants, which was taken on record. In their application, the KMC officers pleaded the court recall the order passed by the SHC additional registrar on January 11, 2011, when he debarred the defendants from filing written statements.

"The ground/justification stated in the affidavit filed in support of this application is not convincing at all," observed Justice Munib Akhtar. "However, since the defendants have filed their written statement along with this application praying that the same may be taken on record after recalling the aforesaid order and also as it has been consistent view of the Superior Courts that matters should be decided on merit. I am allowing this application subject to deposit of costs of Rs10,000 by the defendants on or before October 15 with the Sindh High Court Clinic," ordered Justice Akhtar.

The bench made it clear to the defendant KMC officers that if the amount is not deposited within the stipulated period, this order shall cease to have an effect and the order passed by the additional registrar will stand restored.

Published in The Express Tribune, October 1st, 2015.
COMMENTS
Comments are moderated and generally will be posted if they are on-topic and not abusive.
For more information, please see our Comments FAQ