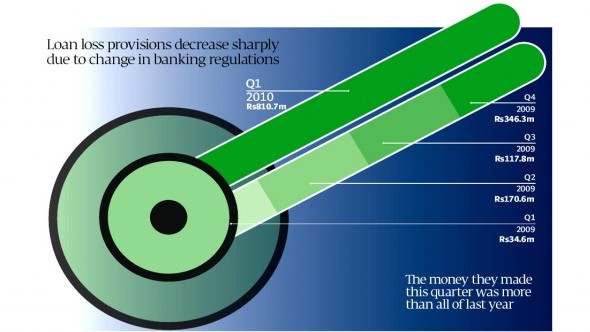 ---
KARACHI: Standard Chartered Bank's profits soared to Rs835 million ($10 million) for the first quarter of 2010, exceeding the bank's net income for the full year 2009.

The bank's profits rose largely due to a sharp decline in provisions for non-performing loans. Loan loss provisions declined 42 per cent during the first quarter of 2010 compared to the same period last year, in part as a result of a change in regulations by the State Bank of Pakistan, which lowered the amount that banks have to set aside as provisions against non-performing loans.

The central bank had raised the "forced sale value" of collateral that a bank can use to determine the amount of a loan that needs to be written off from 30% to 40% and also changed some of the items that can be included as part of the collateral's value.

In essence, it raised the value of non-performing loans that banks could keep on their balance sheets, thus reducing the amount needed to be written off. The bank's management, however, also pointed out that SCB's deposits and lending activity had hit all time highs.

Its deposit base stood at Rs210 billion ($2.5 billion), making it the seventh largest bank in the country by deposits whereas its lending stood at Rs146 billion ($1.7 billion).

"The bank's performance in the first quarter of 2010 is a reflection of the underlying resilience and strength of its franchise in Pakistan," said Badar Kazmi, chief executive of Standard Chartered Bank Pakistan, in a statement released to the press.

"We see a gradual positive build-up in business momentum and envisage a conducive business environment as the economy shows promise with improving macro economic factors," said Kazmi. Standard Chartered is the oldest and largest foreign bank in Pakistan, with its predecessor Chartered Bank opening a branch in Karachi in 1863.

The bank has grown both organically as well as through acquisitions, buying out the Pakistan operations of ANZ Grindlays in 2000 and then buying Union Bank in 2006. The bank is 99% owned by its British parent, the London-based Standard Chartered Bank, plc.

The bank had earned a total net income of Rs796 million ($9.5 million) last year, losing much of Rs16.5 billion net interest income to loan loss provisions, which totalled Rs9.4 billion in 2009.

SCB's net interest income for the first quarter rose by 1.1% compared to the same quarter last year. Standard Chartered Bank's stock declined by 0.59% on Wednesday to close at Rs8.45 in trading on the Karachi Stock Exchange.
COMMENTS (1)
Comments are moderated and generally will be posted if they are on-topic and not abusive.
For more information, please see our Comments FAQ