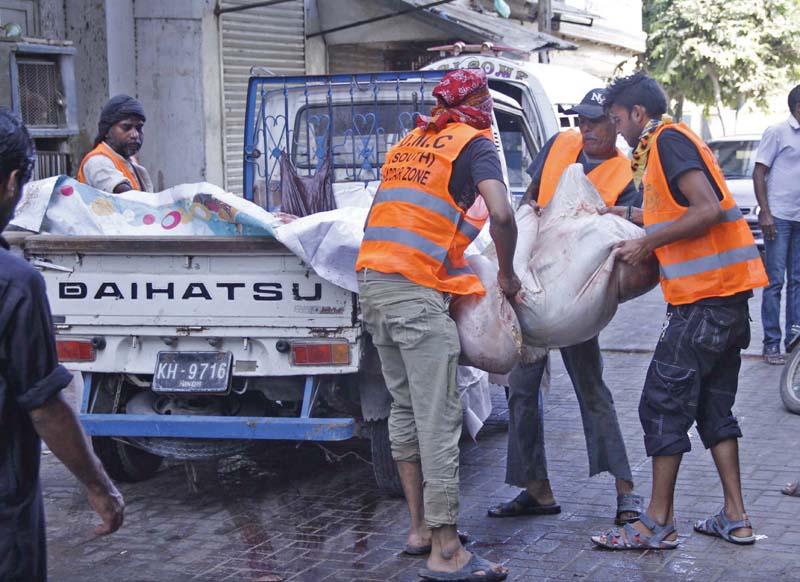 ---
KARACHI: To clean the city of the remains of sacrificial animals during Eidul Azha, Karachi's different administrative units have begun to play the familiar blame game and, like every year, citizens are bearing the brunt of their ill-planning and lack of coordination.

There were delays in collecting animal remains in some parts of the city, as it was not until the second day of Eid that trucks entered many internal streets to collect the remains.

Gulistan-e-Jauhar's major areas, which lie under the Cantonment Board Faisal (CBF), did not see any collection vehicles on the first day of Eid.

A resident of Block 15, Qazi Mashkoor, said that when no official of the CBF could be contacted, they ended up launching their complaint to the District Municipal Corporation (DMC) East. "The DMC officials said that the CBF does not lie under their jurisdiction and they will not send their vehicles to collect the remains in CBF areas," he lamented, adding that he gave Rs100 to a sweeper to at least shift the remains to a nearby empty ground that had turned into a garbage dump where the area's residents had abandoned the remains of their sacrificial animals. Meanwhile, the administrator of DMC East, Rahmatullah Shaikh, said that he did his best to support the CBF.




He said they had dumped 441,000 entrails of animals in Aziz Bhatti Park and Malir Nadi. "Whatever complaints we received from Gulistan-e-Jauhar's blocks, which were under the CBF, we immediately responded to them," he claimed.  No CBF official was available for comments, despite repeated attempts to contact them by The Express Tribune.

Central woes

The Karachi Administrator, Sajjad Hussain Abbasi, has recommended the suspension of the Central municipal commissioner and health officer and the issuance of a show cause notice to the Central DMC administrator, Aisha Abro, for their poor performance.

Abbasi said that he had been visiting the area for the past three days, but the condition was not improving, according to a statement issued by the Karachi Metropolitan Corporation (KMC).

On the other hand, Abro pinned the blame on the KMC. "How is it possible to get a 100 per cent result, with such constrained resources?" she asked and pointed out that most of the areas highlighted by Abbasi fell under the jurisdiction of the KMC.

"We were given machines at the eleventh hour by the KMC and then they expect us to get 100 per cent results in a few hours," she explained, adding that it just wasn't possible.

Published in The Express Tribune, September 28th, 2015.