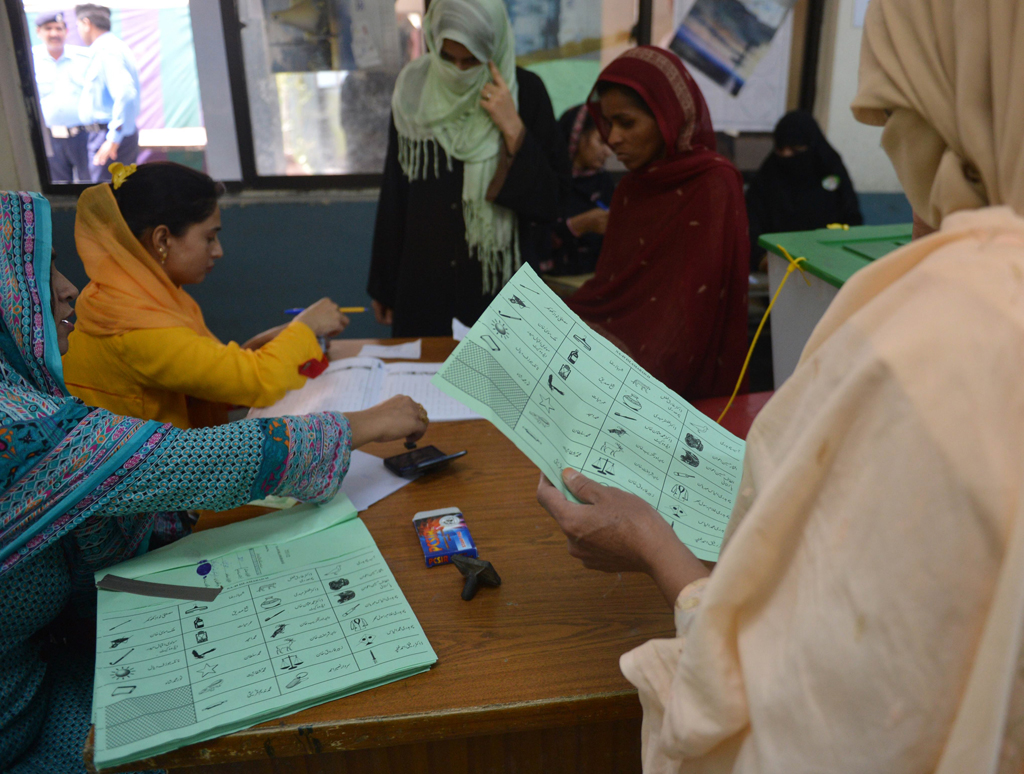 ---
UPPER DIR: Women in Upper Dir took a giant leap on Tuesday to reclaim their right to vote as they queued up outside polling stations in PK-93 (Upper Dir III) -- the first time women in the district were allowed to vote in almost half a century.

The last time women in Upper Dir exercised their right to vote was during 1970's election after which they were barred from voting and a ban was imposed in the area.

Read: PK-93 by-polls: Women expected to rewrite Dir's electoral history

In the constituency of PK-93, total number of registered voters is 148,076 out of which 57,708 are females while 90,308 are male voters.

Out of 120 polling stations including 14 for females in the constituency, 90 have been declared sensitive while 30 are marked highly sensitive. In order to avoid any untoward incident, 7,000 police personnel have been deployed at the polling stations whereas army is also on standby.

With all arrangements, including security, in place, women are expected to turn up in huge numbers to cast ballots. Analysts have reason to believe mainstream parties like Jamaat-e-Islami and Pakistan Peoples Party, who were earlier accused of not letting women vote, have actively campaigned this time around to encourage Upper Dir's women to exercise their constitutional right – an activity never witnessed before in the twin districts.

The seat fell vacant after JI's Malik Behram Khan was disqualified over a fake degree. According to a district administration official, the number of polling stations designated for women has been increased from six to 14. "Earlier there were 126 polling stations in the constituency. The total number has now jumped to 134."

Read: The long road to women's suffrage: Activists term decision to re-poll PK-95 historic

Three candidates are running for the seat in the by-election whereas neck-to-neck competition is expected among PPP's Sanaullah and Malik Muhammad Azam of JI.

The polling started at 8am which will continue till 5pm. The polling remained smooth till the filing of this story.

This is a developing story and will be updated accordingly.