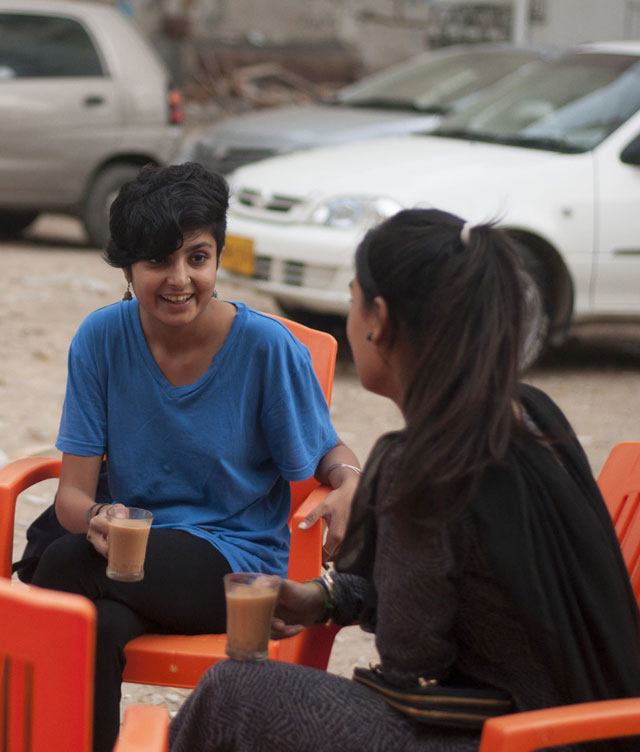 ---
Sadia Khatri did not think her casual hashtag #girlsatdhaba, added to a photo posted on Facebook from her trip to a local tea shop would mean anything. For the love of tea, she and her friends frequent dhabas, roadside tea stalls that are mostly dominated by men but never closed to women.

The photo and the accompanying hashtag sparked a conversation within her social circle about how women at dhabas are seen as an anomaly. Soon, Khatri and her friends were receiving invites for doodh patti from others eager to visit dhabas. As interest in the photo grew, a friend suggested that the photo be made public online so other girls could share their photos from dhaba outings. Thus, the site 'Girls at Dhabas' was created and two months later, the girls have a presence on Tumblr, Facebook, Twitter and Instagram and over 3,000 followers. That's a lot of people curious to see photos of girls and their beloved doodh patti.




When I meet four of the 'Girls at Dhabas' — Khatri, Natasha Ansari, Rabeea Arif and Najia Khan — to exchange thoughts about gender, public spaces and chai, they tell me they're still surprised by the reaction to the hashtag. "Dhabas are a part of our lives," says Arif, a visual arts teacher and graphic designer. "We have always been going there and also noticing how few women go there to drink tea."

While Buzzfeed applauded the girls as leaders of "a movement to reclaim public spaces for women" and one Indian media outlet described chai sessions as "an act of defiance and liberation", the girls are quick to reject these labels and plaudits. "We honestly did not know where this was going," explains Khatri, who works for an advocacy group in Karachi. "The growth (of the project) is very organic and we would like to keep it that way at least for some time." The project has been receiving submissions from girls in various South Asian countries, particularly India. "We have been approached by groups interested in similar initiatives and those are the conversations we want to engage in," Khatri adds.

As the girls and I map out the reality of women in public spaces, words like 'safety', 'tolerance', 'acceptance' and 'shame' are tossed around the dimly-lit, ethnically-decorated basement room of Ansari's house. Tying together these concepts, sociology student Khan explains how many women feel vulnerable in their own cities. "We are always assessing how safe a place is — we look at lighting, location, and number of women," she explains. "We are constantly on guard," Khatri summarises.




While they acknowledge these fears, these women also believe the red line is in one's head most of the time. "We go to dhabas and we have never been turned away," says Khatri. "The dhaba owners certainly have no problem having us around. There are a few people who stare at us and are curious but it is not like women cannot go there."

Let's loiter

As the women behind 'Girls at Dhabas' grapple with what all the attention they are receiving could mean, Indian writer and academic Shilpa Phadke stresses the significance of such efforts. "These movements make visible certain acts that, while many may be doing them, are seen to be something that 'women do not do' — especially in the South Asian context," explains Phadke, who is the co-author of Why Loiter: Women And Risk On Mumbai Streets, a book that plots how women from different classes and communities use India's urban public spaces. "Making the point that women do indeed have a good time in public spaces, including in places seen to be largely masculine, transforms something about the way we see these spaces."

A faculty member at Tata Institute of Social Sciences in India, Phadke discusses research conducted in Mumbai from 2003 to 2006, saying that it was discovered that although in some spaces women appeared to be present in fairly large numbers, they never amounted to even half the crowd. "At the highest, we counted 28% of women in some spaces during the daytime and particularly at rush hour going home," she explains. "At night and in some spaces, it was as low as 3%. Women also tend far more to be mobile, i.e. moving, rather than remaining stationary, loitering or just waiting."

Phadke explains that in South Asia, ideologies around honour often dictate women's location, further compounding the lack of visibility of women in public. Giving insight into the attention 'Girls at Dhabas' has received, she concludes, "Though women might appear to be around, we are few enough for it to still be an event and if this is the case in Mumbai, other cities are sure to demonstrate greater differences."

Anthropologist and social commentator Kamran Asdar Ali, who is based in the US, also admits there are fewer women in public spaces than there ought to be, and being a woman even in the most cosmopolitan city of Pakistan — Karachi — has its challenges. He drives home the point through a nostalgic trip into the past, quoting famous Urdu writer Intizar Hussain from his memoir Chiraghon ka Dhuan. "Intizar Hussain mentions how in the 1950s, he and writer and politician Haneef Ramay would stand on Mall Road in Lahore and watch a sea of cycles with braids going towards Punjab University's old campus," Ali says. This memory of the Lahore of a certain era is shared by many who speak about women seen all over the city riding their bicycles to work or to their colleges, he adds. "But things have changed and we do live in a very different moment in history," Ali feels.




However, the anthropologist points out that despite factors which make women feel unsafe in public spaces, social changes in the last few decades have forced a large percentage of women from all classes to work in the traditional and non-formal sectors of the economy. "Due to economic pressures and the dissolution of extended families in urban areas, many more women are working for wages than in the past," he explains. "Women are leaving domestic spaces to work in the expanding service sector, as office workers, in fast food chains and as teachers. Similarly, in urban areas, the poorest women leave their homes to work as domestic servants, urban labourers, sweepers, or nannies. So, there surely is an increase of working women in public life."

Ali says that the city mostly threatens these women with harassment in the narrow alleys of industrial townships, in long waits at bus stops of the unpredictable public transport system and in the discriminating work culture that needs to be negotiated due to the compulsion of earning a living. He feels that elite women have the social protection that class bestows on them and they can inhabit parts of the city that are considered 'safe' while also venturing into 'unsafe' zones. "Perhaps there are some who venture to the 'other side of the tracks' but there too class gives them protection and they may be treated as an aberration in the social and cultural milieu of the area," he explains, adding that a woman who lives in a low income neighborhood may not be allowed the same transgressions that women from the elite neighborhoods may be able to get away with.

Khatri concurs, explaining to Buzzfeed that "the women we do see on the streets are usually women belonging to the lower class." 'Girls at Dhabas' attempts to redress this social divide at least in public spaces. "Working-class women are forced to be in public while upper-class women are shielded — they are essentially shuttling from one confined space to another," Khan says. "Fewer women [irrespective of their background] in public spaces means women not taking ownership of those spaces, which is a worrying trend," Khan articulates.

A question of access

Discussing the visibility of women in public spaces, Ali says that while women from lower class neighborhoods are constantly leaving their homes to go to their work, these women seldom have the 'freedoms' that class bestows on women from higher social-economic groups. "Urban public life in Pakistan for lower-class women does not always allow them the 'pleasures' of the 'modern': cinemas, cafes, parks, concert halls, beaches or the promenade which they can enter of their own volition," he explains.

Phadke agrees that while women of different classes, races, castes, ethnicities and religions in South Asia experience public spaces differently, they all tend to have restricted access to public spaces in comparison with their male counterparts. "We need to struggle for access to public spaces for all marginal citizens but we must acknowledge that across class and other identities, women are marginal citizens in public spaces," the author says.

Thus, Ali feels that irrespective of class backgrounds, women occupying spaces of leisure to challenge male-dominated spaces is a healthy social sign and needs to be supported. "It is easy to make a class-based critique of women's actions, yet not understand that the category of gender (although intrinsically linked to class privilege) may also have an independent significance," he explains. "This is most sharply evident as domestic violence or sexual violence against women (or children) can happen in any social strata and needs to be understood in terms of gender rights. Similarly, access to public spaces of leisure, discrimination in hiring in the work force, the ability to earn same income for similar work are some issues linked to the argument for gender equity."

In this sense, he feels 'Girls at Dhabas' may be making a statement that needs to be understood in terms of the larger struggle for women's rights. "At times, differences are needed to be set aside in support of a larger statement — which in this case is lack of acceptance of women in public places of leisure — as actions create space for others to follow and may help in securing a more long-term solution to the problems," Ali says.

Privilege and the public space

Khatri and her friends are as conscious about their class privileges as are their critics. They are at pains to clarify on their social media accounts that they understand that the class or economic background they belong to results in distant and disengaging reactions from men on the streets in contrast to women from less-privileged backgrounds.

As I bring up criticism leveled at 'Girls at Dhabas' since the project gained traction, the women behind the project delve into the class discussion almost instantly. "We are aware that we are from a certain class and that makes us privileged," says Ansari, a researcher. "We cannot claim to be experts on communities we have never known personally," reads one message on their Facebook group. "Neither can we comment on experiences that have not been our own."

Khan explains that 'Girls at Dhabas' doesn't set out to 'save' someone from another class. However, in exercising their privilege, these women want to highlight issues of gender and public spaces. Khatri says the project's campaign on social media and actions on ground — such as organising a street cricket match for girls in Karachi last month — aim at improving their surroundings. "We are starting from our own community," Khatri says hinting there are no overzealous plans for changing the world — not yet, at least.

'Dhabas' in France

'In France's cities, public space risks becoming a women-free zone,' screamed the headline of a report in a British publication in November 2014. It is a story of a Paris outer suburb Aubervilliers with a significant population of migrants. According to CityMetric, Aubervilliers and its cafés became the launching ground of an initiative 'A Place for Women' which aimed at ensuring these cafés equally accommodated men and women. "In April 2011, Monique, a retired teacher, was looking for a café on her way home, where she could sit on the terrace with a coffee and enjoy the sunshine. But she felt unwelcome in every one that she passed," the report states.

"I realized that every single terrace that I passed only had men there, who looked at me as if I didn't belong there. I couldn't bear it," Monique was quoted as saying. She decided to fix this problem herself and asked her friends for their support. Their group 'A Place for Women' now meets once a month at one of these cafés or bars to reclaim these spaces for themselves.

The CityMetric report explains that in Aubervilliers, like other working-class immigrant areas, all-male spaces are a common sight and women, though, not explicitly forbidden from being there are often ill at ease.

One of the members of Monique's group recalls her experience as part of 'A Place for Women', saying she saw men looking at them from the corner of their eyes. "Cars stopped outside the café to look in — even the police dropped by a couple of times. But we weren't afraid, and we became the talk of the town," she told CityMetric.

Over the years, the group members have visited more than 30 such cafés in the neighbourhood. Regularly frequented by female visitors, some of these cafés now display signs that read: "Here, women can feel at home".

Ferya Ilyas is a senior subeditor at The Express Tribune. She tweets @ferya_ilyas

Published in The Express Tribune, Sunday Magazine, September 13th, 2015.
COMMENTS (7)
Comments are moderated and generally will be posted if they are on-topic and not abusive.
For more information, please see our Comments FAQ