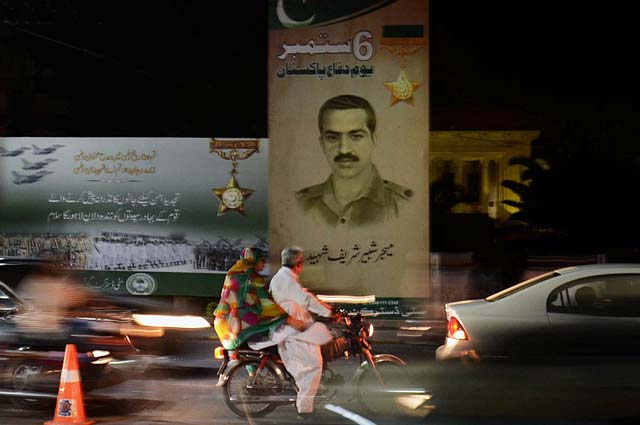 ---
Government has announced large-scale celebrations to mark the 50th anniversary of 1965 Pakistan-India war with a minute's silence of 'solidarity' to be observed across the country, Radio Pakistan reported.

The day will start with a 31 gun salute in the federal capital and 21-gun salute in the provincial capitals. A minute's silence will be observed throughout the country at 9:29am to pay homage to soldiers who lost their lives in  '65-war, followed by the national anthem being aired on all broadcasting networks in the country.

The central event will be held at General Headquarters (GHQ) Rawalpindi while Pakistan Air Force (PAF) will present a special air-show over F-9 Park in Islamabad. It is unclear whether there will be a parade.

The show, which will begin at 11:00am, will feature fighter jets of the PAF, including JF-17 Thunder, F-16, Mirage and renowned aerobatic team of PAF, the Sher Dils. Besides this, Pakistan Army's helicopters will also participate in the event.

Read: Nishan-e-haider: Gujar Khan to honour its two heroes

In Karachi, the day will start with the change of guard ceremony at Quaid-e-Azam's mausoleum where contingents of cadets of PAF will assume the charge. Pillion riding has already been banned for Saturday and Sunday in the city due to security reasons.

The major event in Peshawar would be an exhibition of aviation paintings and aircraft models arranged by the PAF at Nishtar Hall. The theme of the exhibition is "Pakistan Air Force - a saga of courage and sacrifice".

In Multan, a two-day exhibition of Pakistan Army war weapons has been arranged for the general public at Ayub Stadium Garrison, while a major event will be held at Yadgar-e-Shuhada in Multan Cantt on Sunday evening to pay tribute to the martyrs of Pakistan Army.

The main function of Defence Day in Gilgit-Baltistan will be held at Corps Headquarters Force Command Northern Areas while a ceremony will also be held at the tomb of Lalik Jan Shaheed (Nishan-e-Haider) at Hundur village in Ghizer district.

The day in Azad Jammu and Kashmir would start with 21 gun salute. AJK President Sardar Muhammad Yaqoob Khan will be chief guest of the Defence Day function to be held at Neelum Stadium on Sunday.

Security is already on high alert in the country and mobile phone services will remain suspended in the twin cities of Rawalpindi-Islamabad.