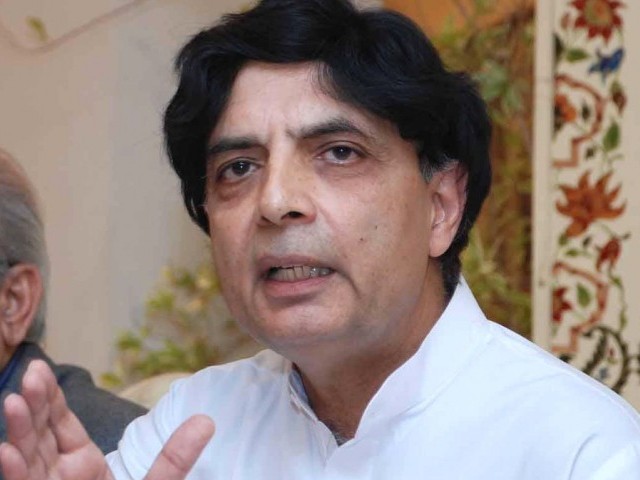 ---
ISLAMABAD:



Britain has been asked to withdraw 'support' for Muttahida Qaumi Movement (MQM) chief Altaf Hussain and Baloch separatist leaders, Interior Minister Chaudhry Nisar Ali Khan told Prime Minister Nawaz Sharif on Friday.




The interior minister was sharing details about his recent visit to the United Kingdom.

The official statement, issued by the PM House, did not give any details of the meeting. However, sources in the federal government said Nisar told the prime minister about the progress made on his four-point agenda during his visit.

Sources said Nisar succeeded in convincing the UK authorities to withdraw their support for the MQM and Baloch insurgents. It was during Nisar's stay in the UK that Baloch Republican Party (BRP) self-exiled leader Brahamdagh Bugti told BBC Urdu that he was willing to withdraw his demand for an independent Balochistan state, if the Baloch people desired so.

Nisar voiced hope that Baloch separatist leader Harbiyar Marri would also agree to come to the negotiating table, adding that there were some hurdles in the way including an internal rift in the Marri family. He said the matter needed not only time for its resolution but also certain guarantees from Islamabad.

Sources said Nisar's visit coincided with major developments in the MQM leader Dr Imran Farooq's murder case. A team of Scotland Yard on Friday concluded its three-day visit to Pakistan after quizzing another prime accused in the case, Mohsin Ali.

The prime minister and Nisar discussed as to what Pakistan could demand from the UK authorities in exchange for the possible extradition of Dr Imran Farooq's alleged killers, three of whom are already in Pakistan's custody.

Nisar told PM Nawaz that during his stay in the UK and interactions with his counterpart and other officials, he had learnt that the money laundering case against the MQM chief Altaf Hussain had taken a serious turn and Altaf might be sent behind bars.

The prime minister and the country's top security czar also discussed the possible repercussions, particularly of Altaf's possible arrest, for the metropolitan city of Karachi and also deliberated on strategies to cope with the emerging situation.

The two leaders also discussed the issue of MQM lawmakers' resignation from parliament and Sindh Assembly and the failure of negotiations between the government and the MQM. The MQM lawmakers had tendered their resignations to register their protest over the paramilitary Rangers' led surgical operation in Karachi.

They also reviewed Pakistan Peoples Party (PPP) co-chairperson Asif Ali Zardari's recent statement in which he has accused the government of 'reverting to the politics of the 90s' and warned it of dire consequences. Zardari's statement came days after the arrest of his close aide, Dr Asim Hussain, on charges of terror financing.

Published in The Express Tribune, September 5th, 2015.