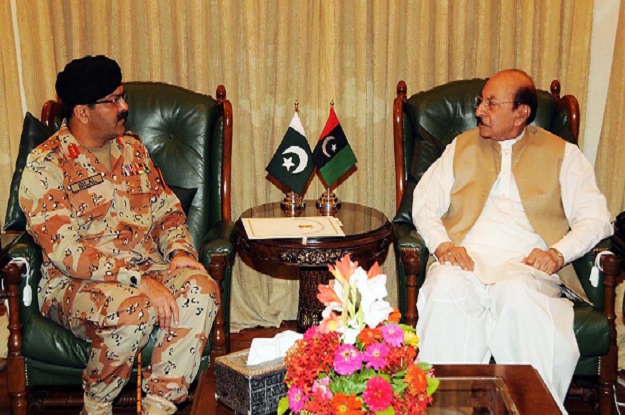 ---
KARACHI:
Sindh Chief Minister Qaim Ali Shah on Friday termed the arrest of Dr Asim Hussain 'an attack on Sindh's autonomy' and said he was not taken into confidence by the Rangers before they took the provincial chairman of the Higher Education Council (HEC) into custody.
"Dr Asim is the chairman of HEC in Sindh. He has the status of a provincial minister. The concerned agencies were legally bound to take me into confidence before taking a person of such status into custody," he told reporters after inaugurating an underpass in Karachi named after the late Begum  Nusrat Bhutto.
"But I was never informed before the arrest was made. This is unwarranted and unfair," he said.
The chief minister came down hard on security and law enforcement agencies over the development.
"I am the boss of this province and I head the ongoing operation [in Karachi]. The inspector general of police and the director general of Rangers work under my supervision. Maintaining law and order in Karachi and other parts of Sindh is my responsibility," he said.
"There is no rule of the jungle. We will not let that prevail."
Shah said he spoke to the Karachi corps commander and the Rangers DG soon after Dr Asim was arrested. "They told me there were complaints against Dr Asim but when they sent me the details, I found the complaints to be vague and without substance," he said.
The chief minister added that if there were serious complaints against the HEC Sindh chairman, they should have been probed and substantiated before he was arrested. "The procedure was not followed in this case and that has invited the wrath of my party [PPP]. They hold me responsible because they have elevated me to the position of chief minister."
Shah said he also met the Rangers DG on Friday. "He assured me that the issue will be settled and that I will be taken into confidence before such actions are taken in the future. I hope Dr Asim will be released soon." Meanwhile, the chief minister said he has been informed that the Federal Investigation Agency (FIA), the National Accountability Bureau (NAB) and other federal agencies will "stop their intrusions in Sindh within two days."
"We are also working to stop their excessive actions in Sindh," he said.
Published in The Express Tribune, August 29th, 2015.