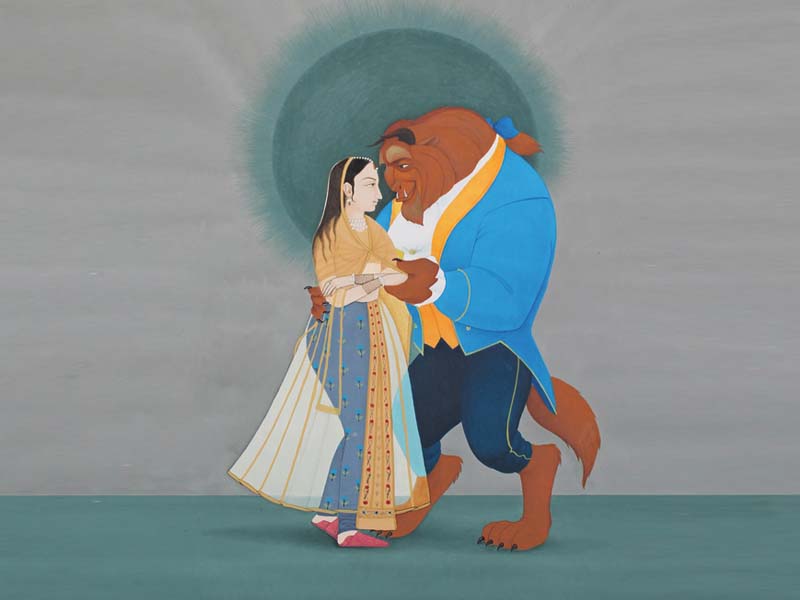 ---
KARACHI:



Pop culture has invaded the world like a storm with its string of interesting and unique characters, stories and concepts. Farhat Ali takes a bold step by reimaging scenes from South Asian history and combining them with popular cartoon and animated characters. The results are amusing and surprising.




Sanat gallery's new exhibition, 'How did I get here', presents some of the most unique and enjoyable pieces of art. The works relate to most people that are coming to terms with their culture, history and identity in this multicultural and globalised world.




In one painting, a 16th century old man is depicted fighting Superman. In another, the hunky and lovable cartoon character, Johnny Bravo, is seen presenting a flower to a woman from the Mughal era. Ali recreates the ballroom sequence in Disney's Beauty and the Beast where Beast dances with a traditionally dressed Mughal woman instead.

Disney's Aladdin, cartoon networks' famous cat, Tom, Dreamworks' much adored green ogre, Shrek, and plenty other characters too make an appearance in his work. He also incorporates figures from Hindu mythology that add depth to his creations.

"Ten years ago, I was watching these characters on my television," said Yusuf Amanullah, an artist. "Ali's creations are not only resonant of our cultural heritage but bring back childhood memories."

Abid Merchant, Sanat Gallery owner, feels that this theme has broadened the audience for Ali's work. "These pieces relate to everyone," he said. "All these pieces evoke strong social commentaries."

Best of both worlds

"The characters I used are from two seemingly different time periods," said Ali. "We have Mughal characters that are from our heritage and cartoons which belong to the digital era." Blending the two worlds together has helped me produce a narrative which is different and unique, he added.

Ali's works brilliantly depict the tension between the characters. "My aim is to narrate to my audiences the layers of grief, love, war, passion and fear unveiled in both our heritage and in cartoons," he said.

Interestingly Ali did not title his works. "His pieces are untitled because we want everyone to draw their own conclusions and title the work the way they want," said Merchant.




"I admire how the artist has used contemporary techniques in a geographically specific context," remarked one of the viewers. "After all, miniature painting originates from South Asia."

Beginnings

Ali began his journey as a painter in Badin. His experience of 10 years introduced him to new techniques and mediums. His mother then encouraged him to pursue his studies at the Centre of Excellence in Art and Design, Jamshoro. Ali received his Bachelor of Fine Arts from National College of Art (NCA), Lahore. At NCA, Ali's major was painting. I learned the technique of miniature painting on my own, he claimed. "It began as a joke with my friends who were pursuing miniature painting," he said. "I wanted to prove them that I was better at their art."

Published in The Express Tribune, August 29th, 2015. 
COMMENTS
Comments are moderated and generally will be posted if they are on-topic and not abusive.
For more information, please see our Comments FAQ