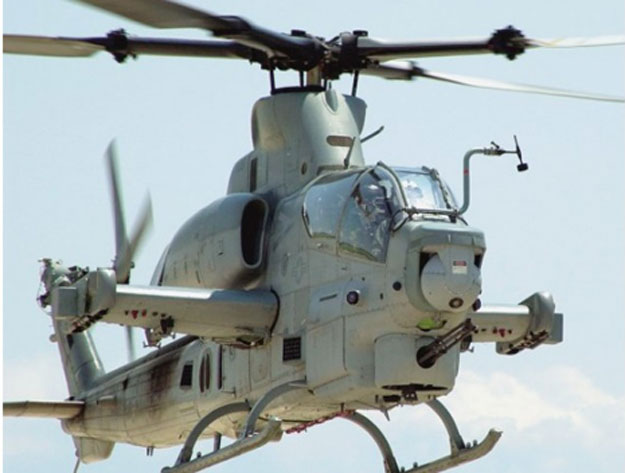 ---
US Department of Defence (DoD) announced on Wednesday that it has awarded Bell Helicopter a $581 million contract that includes the delivery of AH-1Z Viper attack helicopters to Pakistan.

The contract covers the manufacture and delivery of 15 Lot 12 UH-1Y Venom utility helicopters, 19 Lot 12 AH-1Zs, one Lot 13 UH-1Y, and 21 auxiliary fuel kits for the government of Pakistan. According to the DoD, these initial helicopters will be delivered by the end of August 2018.

Read: Chinese 'Thunderbolt' helicopters may replace American Cobras in Pakistan

Although Pakistan had requested the sale of 15 AH-1Z helicopters in April, it is not clear how many of the 15 helicopters have been signed for at this stage.

The notification by the US DoD stated that 10% ($57.9 million) of the overall contract value covered the sale to the government of Pakistan which suggests that this is an initial deal for the first two helicopters only, with contracts for the remaining 13 (plus spares and support) to follow.

The original US Defense Security Co-operation Agency notification of Pakistan's request included 1,000 AGM-114 Hellfire II air-to-surface missiles for "a precision-strike, enhanced-survivability aircraft that can operate at high altitudes. By acquiring the AH-1Z and Hellfire II capability, Pakistan will enhance its ability to conduct operations in North Waziristan Agency, the Federally Administered Tribal Areas (Fata), and other remote and mountainous areas in all-weather, day and night environments".

Read: Russia agrees to sell Pakistan four MI-35 attack helicopters

On August 19, Pakistan signed an agreement with Russia to purchase MI-35 'Hind' attack helicopters. "An agreement was signed between Pakistan and Russian authorities in Rawalpindi for the purchase of four MI-35 helicopters," said a senior military official.

The official, however, did not provide any further details about the deal, or shed any light on the configuration of the helicopters which Pakistan will receive. No timeline for delivery of the helicopters was revealed.

This article originally appeared on Janes.com.