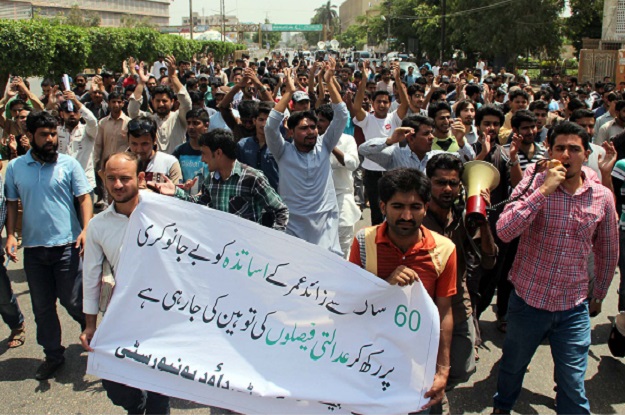 ---
KARACHI: New MA Jinnah Road turned into a mini-battlefield during a protest by the students of Dawood University of Engineering and Technology (DUET) on Wednesday.

A clash took place between students and law enforcers and four policemen were injured. The students were then baton-charged and arrested, and a case was registered against them.

The students' protest against the DUET's alleged unfair administrative policies entered its third day when a large number of varsity students gathered at New MA Jinnah Road on Wednesday morning. A massive traffic jam was witnessed on the city's main arteries such as Guru Mandir and Lasbela due to the blockade of New MA Jinnah Road by the protesters.




An extra contingent of law enforcers was also deployed at the protest site to avoid any untoward incident. However, the situation turned violent when the police tried to disperse the protesters as some of them threw stones at the police. At least four policemen were wounded. They were taken to a nearby private hospital, from where they were released after receiving first aid treatment.

As a result, the police took action against the protesting students and charged them with batons. The law enforcers also resorted to indiscriminate fire into the air to disperse the protesters. Hide and seek continued for some time between the protesters and law enforcers and the police eventually apprehended at least 11 students allegedly involved in attacking the law enforcers. The police registered an FIR No 260/15 against the arrested students. The case was registered on behalf of the state for attacking law enforcers and rioting.

SHO Ikhlaq Ahmed said that the policemen were trying to convince the demonstrators to end the protest. Instead of ending the protest, they attacked the police personnel, which forced the law enforcers to take action against the violent students, he said, adding that a case has been registered while further investigations are underway.

Published in The Express Tribune, August 20th, 2015.