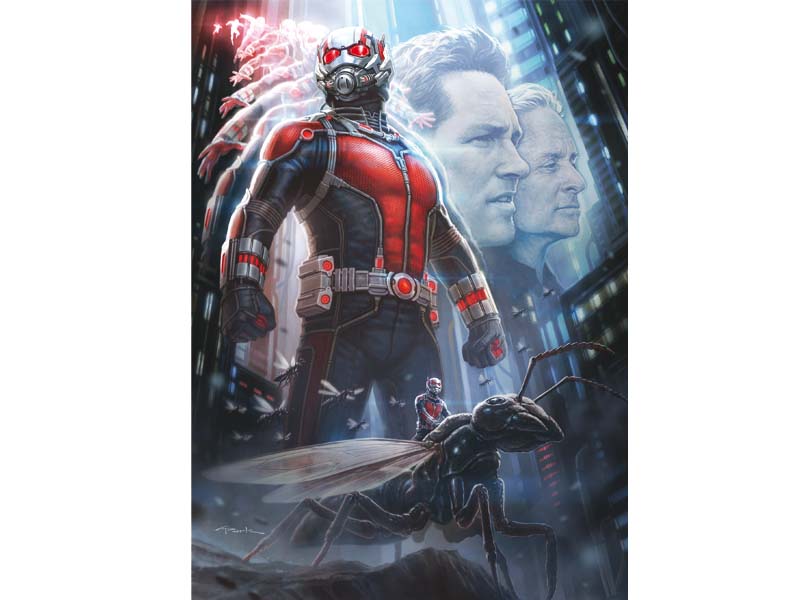 ---
Marvel's Cinematic Universe has been expanding with each passing year, thanks to the massive success of the franchise's big-screen offerings. The latest addition to the multi-billion dollar family is Ant-Man, the original story of the Avengers cohort who makes his cinematic debut in this eponymous outing.

After former S.H.I.E.L.D. scientist Hank Pym (Michael Douglas) discovers that his ex-protégé Darren Cross (Corey Stoll) is working on a shrinking technology similar to his Ant-Man super-suit, he is left horrified at the prospect of the invention falling into the wrong hands. To avert a catastrophe, Pym recruits cat-burglar Scott Lang (Paul Rudd) to embrace the Ant-Man persona and steal Cross' Yellowjacket suit with the help of his semi-estranged daughter Hope van Dyne (Evangeline Lilly).

As with most superhero adventures, Ant-Man does not leave viewers with any doubt about who will eventually come out on top. The plot unfolds in a fairly predictable manner as the movie turns into a heist caper, however, Ant-Man still does a solid job introducing us to its main characters and getting us invested in their fate. The credit largely goes to Rudd and his seemingly infinite charisma as well as his chemistry with the supporting cast — Michael Douglas and Michael Pena in particular. Rudd is endearing as the protagonist and easily succeeds in making Lang relatable. The film's premise also gives director Peyton Reed a chance to indulge in some visual inventiveness, which usually comes as a delight.




Even so, a solid cast and exciting visual sequences can't make up for the fact that the script could have been sharper. Ant-Man doesn't succeed in creating a seamless blend between its sci-fi, action, and drama elements. At times the movie is pleasantly quirky, while at other moments, it feels needlessly clichéd. The humour doesn't always work and the film seems desperate to flaunt its connection to the Avengers, usually to its detriment.

Ant-Man isn't as well-crafted as it should have been and leaves you with the sense that it could have been significantly better (perhaps if original director Edgar Wright had stayed at the helm of the project). Still, despite the fact that its treatment of the story needed more polish, Ant-Man is a fairly enjoyable popcorn flick. Its storyline and underlying themes don't offer anything particularly creative but the playful execution of the narrative and an impressive performance by Rudd keeps you entertained.


Sameen Amer is a Lahore-based freelance writer and critic.
She tweets @Sameen
Published in The Express Tribune, Sunday Magazine, August 23rd, 2015.