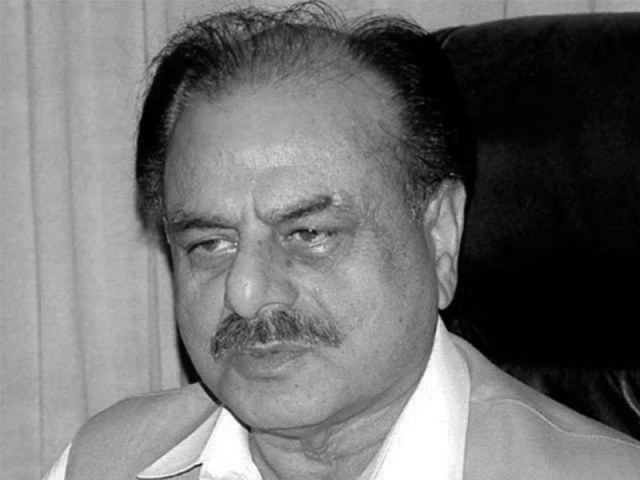 ---
Former Inter Services Intelligence (ISI) chief Lt General (retd) Hamid Gul passed away in Murree on Saturday evening due to brain haemorrhage, Express News reported.

According to his daughter, Uzma Gul, the former spy master had been taken to the Combined Military hospital in Murree on Saturday after he suffered brain haemorrhage.

Despite efforts by the doctors, he could not be saved.

His body was shifted to his house in Rawalpindi. He is expected to be buried in army graveyard in Rawalpindi after early evening prayers. Abdullah, returns from Turkey and the other son returns from Australia.

The three-star general was commissioned in the Pakistan Army in October 1956 with the 18th PMA Long Course in the 19th Lancers regiment of the Armoured Corps. He fought in the 1965 war with India. He attended the Command and Staff College Quetta in 1968-69.
During 1972–1976, Gul directly served under General Muhammad Ziaul-Haq as a battalion commander, and then as Staff Colonel, when General Zia was GOC, 1st Armoured Division and Commander, II Corps at Multan.

Gul was promoted to Brigadier in 1978 and steadily rose to be the Martial Law Administrator of Bahawalpur and then the Commander of the 1st Armoured Division, Multan in 1982.

He then served as the director general of ISI between March 29, 1987 and October 4, 1989.

He retired from service in 1992.

Expressing grief over Lt Gen Gul's death, Army chief General Raheel Sharif expressed sorrow and extended his condolences to the bereaved family.

Prime Minister Nawaz Sharif has expressed his heartfelt condolences over the demise of Lt.Gen.(retd.) Gul. He commiserated with the bereaved family to bear this loss.

Finance Minister Ishaq Dar and Information Minister Pervaiz Rasheed also expressed their condolences.

As news of his death spread, many took to micro-blogging site Twitter to express grief over his demise.


Just talked to Gen Hamid Gul's grandson.He died at 9PM of brain haemorrhage. Knew this great man since early 90s.May his soul rest in peace.

— Dr. Arif Alvi (@ArifAlvi) August 15, 2015
Shocked. I chatted 4 long with Hamid Gul at the reception Enver Beg had held only 10 days ago & teased him 4 looking "so fit"!!

— Nusrat Javeed (@javeednusrat) August 15, 2015
May ALLAH THE ALMIGHTY bless Gen Hamid Gul's soul a place in the best of Heavens. Amen.Agree or disagree with him- he was a man of substance

— Masood Sharif Khan Khattak (@MSharifKhattak) August 15, 2015
Saddened by the death of a Great friend, brave soldier and Patriot Gen Hamid Gul. May Allah give him highest place in Jannah. Ameen.

— Senator Ejaz Chaudhary (@EjazChaudhary) August 15, 2015
Simplicity Gen Hamid Gul having dinner
Regimental field mess Multan on 24 June,1985 #PakSalutesHameedGul pic.twitter.com/x3csEdAdGx

— AAMIR KHAN (@aamirsagar) August 15, 2015
Differences with Hameed Gul's past and ideology aside; he deserves respect for being a true patriot and stood for what he believed in #RIP

— Osama Bin Javaid (@osamabinjavaid) August 15, 2015
Former DG ISI Gen Hamid Gul passes away. He was known as the father of Taliban.

— Kamran Yousaf (@Kamran_Yousaf) August 15, 2015
Can't believe that Gen(R)Hamid Gul is no more.lots of #Respect & duas for General sb. pic.twitter.com/zEcmtKSuBb

— Anam Hameed (@anamhameed) August 15, 2015
RIP General Hamid Gul... He was such an awesome person.. May his soul rest in heaven. shocking sad news.

— Daniyal Alvi (@DaniyalLv) August 15, 2015
Saddened to learn about sudden demise of Lt-Gen (R) Hamid Gul. I extend my condolences to the family of late former ISI chief. RIP

— Hina Parvez Butt (@hinaparvezbutt) August 15, 2015
#MQM founder leader Altaf Hussain express grief and sorrow of demise of former #ISI Chief Gen. Hameed Gul.
@GenHameedGul

— Mustafa Azizabadi (@azizabadi) August 15, 2015

https://twitter.com/Arslaning/status/632636252248891392

Looking into his professional attitude and character, unlike others, General Hamid Gul remained intelligence Chief till his last breath.

— M. Asim Khan (@asimnyazee) August 15, 2015

https://twitter.com/real_sumaira/status/632634562057793536
https://twitter.com/TheMahiraKahn/status/632634561088753665

Sad to learn of Gen Hameed Gul's death. Whether one agreed with his views or not, he was a patriot. Condolences & prayers go to the family.

— Imran Khan (@ImranKhanPTI) August 15, 2015
COMMENTS (94)
Comments are moderated and generally will be posted if they are on-topic and not abusive.
For more information, please see our Comments FAQ